They say eyes are a pathway to your soul. You know what they say, but do you know why they say it? It is said like this because the first thing people notice when looking at you is your eyes. To use it to your advantage, you can possess promotional sunglasses to boost your business and enhance your advertisement.
There are numerous reasons why personalized sunglasses can become an excellent and attractive promotional item. Please keep reading to learn why they are the most attractive promotional tool at your disposal.

Sunglasses fit every genre of Audience.
Custom sunglasses are the perfect choice for any audience, whether you're looking for a promotional gift, a party favor, or a unique item to sell in your store.
Cheap promo sunglasses with your logo are a great way to promote your brand, and they make an excellent gift for customers and employees alike.
And if you're looking for something truly unique, try Custom printed sunglasses with your favorite photo or design. Printed sunglasses are an excellent way to show off your style and business, and they make a great conversation starter.
So whatever your needs, Sunglasses with logo are the perfect solution.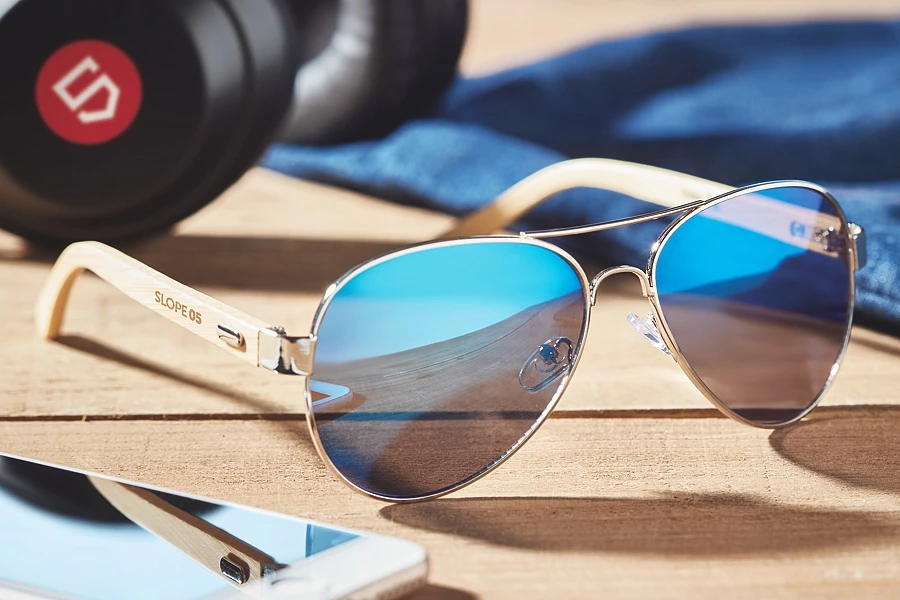 Budget-friendly
Custom printed sunglasses are a fantastic way to promote your brand on a budget.
Promotional products like branded sunglasses are a cost-effective way to get your brand out there. And what better way to do that than with a pair of cool custom sunglasses?
Custom sunglasses are a fun and practical promotional item that will put your brand in the spotlight. Plus, they're bound to be a hit with customers and employees alike. So why not give them a try? You'll be glad you did.

Sunglasses can relate to most Businesses.
Branded sunglasses are an eminent way to get your business name out there. People are always looking for the latest and greatest promotional item.
Promotional sunglasses are a great way to show your customers that you're up-to-date with the latest trends. Not only are they chic, but they're also functional.
Your customers will appreciate that they can keep their eyes protected from the sun while enjoying their favorite outdoor activities.
And when they wear your branded sunglasses, they'll be sure to turn heads and get people talking about your business.
So go ahead and make a statement with promotional sunglasses. They're a great way to promote your business and make a lasting impression on your customers.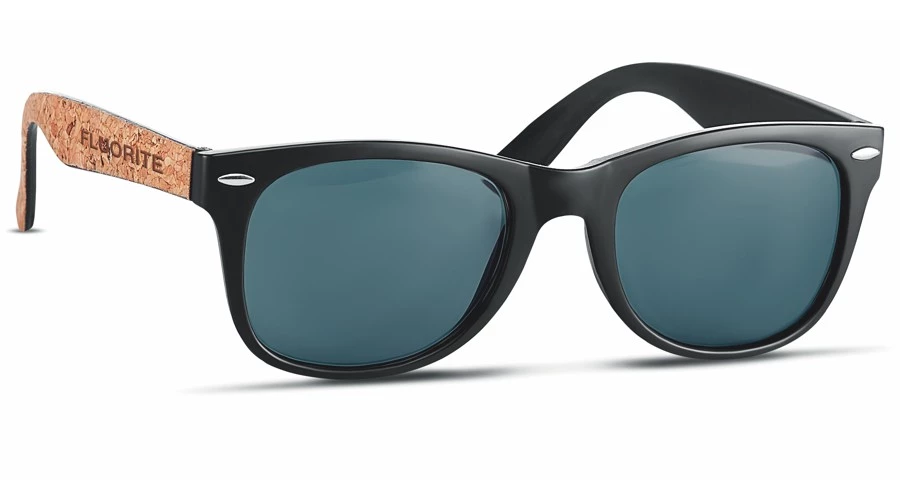 They leave an Excellent Impression
As any savvy networking aficionado knows, making a good impression is essential to success. And while there are many ways to make a good impression, one of the most important is to be well-dressed.
Of course, looking good isn't just about having the latest fashion sense. It's also about being prepared for the elements.
For Instance, Eco-Friendly sunglasses can be helpful to both your company and people. Furthermore, they will portray a great everlasting impression of your company on people's minds.

Excellent for Outdoor Promotions
If you're looking for a promotional gift that's sure to please, look no further than sunglasses! Passers-by will love them, and you will feel good distributing them - a selfie with the receiver is not a bad idea, what say you?
Corporate gifts and promotional items are a great way to get your brand name out there, and sunglasses are a popular choice for both men and women.
Moreover, they're perfect for outdoor promotions, corporate events, and more. Whether you choose to have your company logo printed on the lens or engraved on the side, sunglasses are an excellent way to promote your brand.
So don't wait any longer. Order your custom sunglasses today!
Promotional Sunglasses Start Conversations.
Promotional sunglasses are the perfect way to start a conversation. Whether you're at the beach or just out for a walk, cheap promo sunglasses are a great way to break the ice.
And with so many diverse styles and colors to pick from, you can order excellent-looking and trendy glasses for your next promotional gala.
So go ahead and pick up a few dozen sunglasses with your company's logo today. They're sure to put a smile on everyone's faces.

They are a Necessity.
The world's weather is changing, and an increase in UV and sun intensity is observed every year. Sunglasses take the top spot among other protective gear and have become necessary.
They are essential for anyone who wants to protect their eyes from the sun. Promotional sunglasses are a great way to promote your business and spread your name.
Cheap promo sunglasses are a great way to get your name out there without spending money.
So, why not do something good and feel good about it. Furthermore, as a result of this goodness, the word about your business will get out, and your sales will increase manifolds.

Most people love them.
Sunglasses are one of the most attractive promotional items around. And there are many reasons supporting that:
They are stylish, practical, and always in fashion.
You feel refreshed and relaxed when wearing them.
They are perfect for those hot summer days.
Sunglasses are also one of the most popular corporate gifts, with many companies giving them away as promotional gifts.
So if you're looking for a stylish and practical promotional gift, look no further than branded sunglasses.
Finally, don't spend loads of your money buying expensive sunglasses and stay within your promotional spending limits.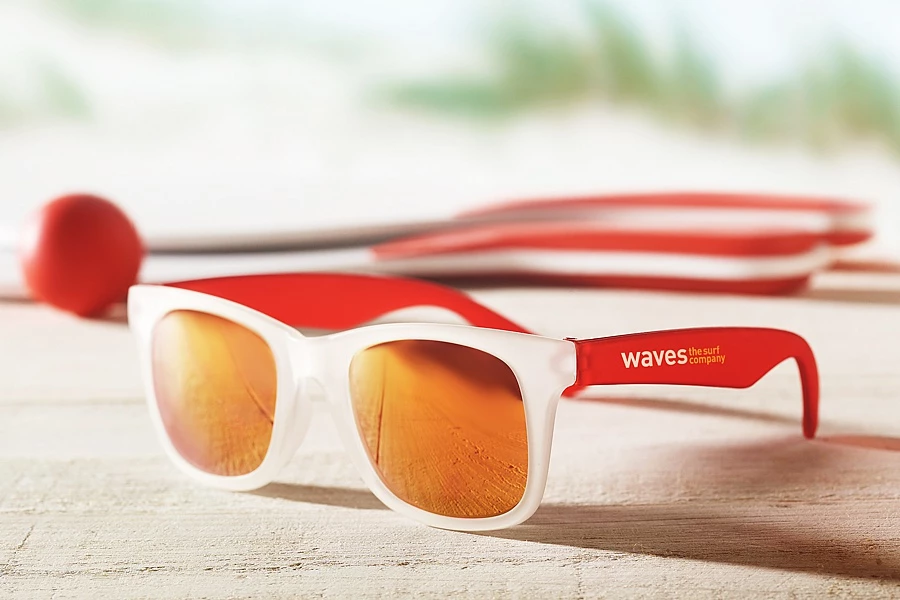 Where to distribute them?
Want to get the maximum amount of promotion from your free sunglasses? Following candidates and places are most suited to get one from you. Likewise, they are likely to yield the most promotional benefits.
School and college kids because they like to roam around and need most UV protection. You get yours; they get theirs. Win-Win!
Movie lovers because sunglasses are a trademark in Hollywood movies, so they will accept your pair of free glasses and spread the word about your business.
Passers-by because people walking in summer are most likely to buy a pair of sunglasses.
A few extra tips.
First, make sure to choose a trendy and timeless style.
You want your sunglasses to be something people want to wear, not just toss them in a drawer and forget about them.
Second, don't skimp on quality - cheap sunglasses are more likely to break or get lost, and that's not good for your brand.
Third, make sure your logo is prominently displayed - people need to be able to see it clearly to make the association with your brand.
And finally, don't forget to distribute them in high-traffic areas - they're no good sitting in a box in your office!
With some planning, you can make sure your promotional-free sunglasses work hard for you.

Conclusion
As you can see, promotional sunglasses make an excellent choice for any business looking to increase brand awareness and drive sales. They are budget-friendly, attractive, and versatile – perfect for any audience. If you're looking for a promotion that will get people talking, personalized sunglasses are one of a kind advertising items!
We recommend you to read our similar blogs about promotional items:
Promotional water bottles - what is good to know before purchasing them?
Promotional Umbrellas, Your Walking Billboards
The Reasons Why Everyone Love Promotional Towels
5 reasons why your company need promotional backpacks