Promotional Sunglasses with your logo are a valuable and affordable promotional gift.
They are very suitable for gifting them at events. The recipients usually wear them en masse and thus inadvertently carry out a promotion for your brand. Of course, these glasses always come in handy in everyday life, especially on vacation or leisure time. And these are the moments when we are relaxed and mainly in a good mood. Linking these feelings to the brand, however, is every marketer's dream. Psychological triggers are an important factor in higher sales. So, please read our blog on this topic: Business gifts and psychology of colors.
Do you organize team building or a business party? Are your co-workers going on a union trip or competition? You have no idea what to give on this occasion? You can't go wrong with promotional sunglasses. Most of the gift recipients will be happy to wear them. Everyone will remember this event for a long time while looking at the photos, which will, of course, also be circulating on social media, and sunglasses will be on most of them.
When we combine usability in everyday life and effective promotion, we have found the perfect promotional gift in sunglasses. Promotional sunglasses are a gift that your customers and business partners will use in public and private lives. Such advertising is thus friendly and most effective.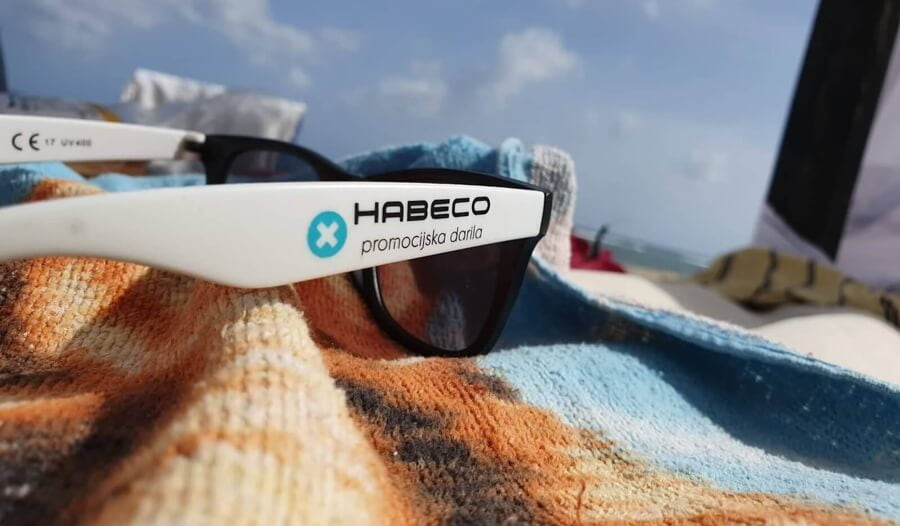 We also print Promotional Sunglasses in our company and make custom promotional sunglasses, entirely according to your proposal. In case you need design, our graphic studio will help you. So, you will get it all in one place, which will save you valuable time and money.
You can quickly get an offer for printing or a quantity discount on the item's product page. Want to know what are the most common mistakes when ordering business and promotional gifts? Read the blog: Business gifts - 7 mistakes to avoid.