Being in pleasant company and having a good coffee, drink or meal is an event that everyone likes to take. And if we have a choice, we would choose a nice, pleasant place where the staff is friendly and helpful, and usually also tastefully and uniformly dressed. Almost all over the world, this standard shows the restaurant's quality level. It displays the seriousness and owners' awareness of how to do the business and their professional attitude towards their customers and visitors. You might say that such catering clothes cost a lot, but this is not true. Such an investment is not large at all and certainly pays off very quickly. And in today's blog, we'll introduce you to a bunch of solutions that will back up this claim of ours.
Waiters' work shirts
Suppose we start with the waiters, who are also the most eye-catching and the first to make a sound or less good impression. You certainly remember the Parisian or Italian waiters, their elegance and the style with which they serve you coffee, which by the way, is several times more expensive than elsewhere. And let's not delude ourselves. Such service on a level is not accidental and certainly not free, but a carefully thought-out business move. In bars where service is sound, and they do it in style, the prices are also higher. So as we have already said, the investment in the "uniform" pays off quickly. Already uniformly dressed staff, in classic T-shirts, which are all the same colour, gives the bar a stamp and visibility among guests. Believe us when we say that even such a small thing will give your business a new dimension. If you want a higher level, we suggest a quality polo shirt, a women's or men's model, which you can get for the price of three cups of coffee. The collar makes things work and gives the shirt a more serious and elegant look. In most cases, a polo shirt is just the right solution, which is also friendly to employees since it is comfortable.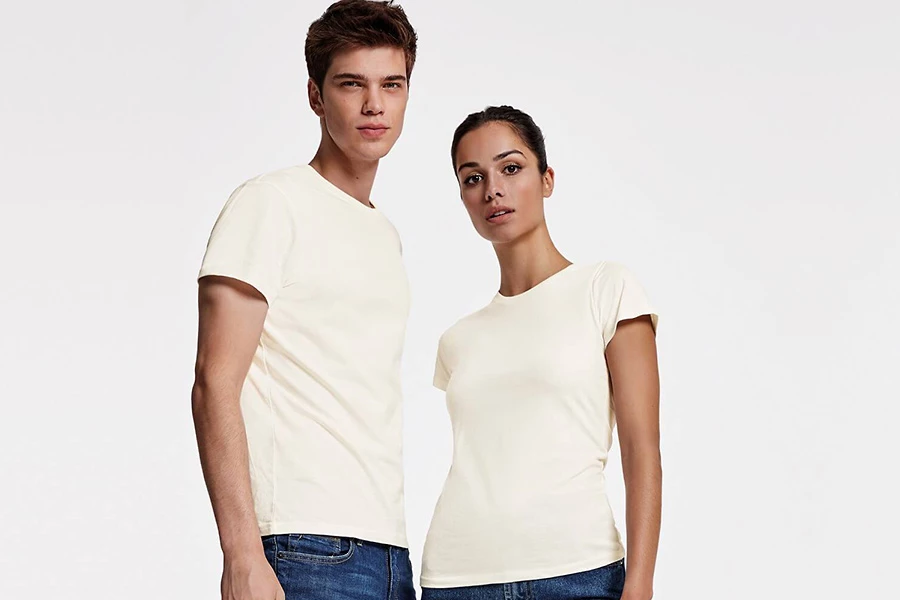 Shirts, like a work uniform
Of course, with the quality level of the bar, the standard of employee uniforms also rises. It is appropriate to dress the staff in work shirts made of durable material in a better coffee bar or restaurant. That will look suitable for a longer time, despite frequent washing and ironing. Your employees will look very close to those above mentioned Parisian and Italian colleagues if you add a catering apron to your T-shirts or shirts. With this, at least in terms of elegant staff, you have reached a level where your prices can be slightly higher than the competition.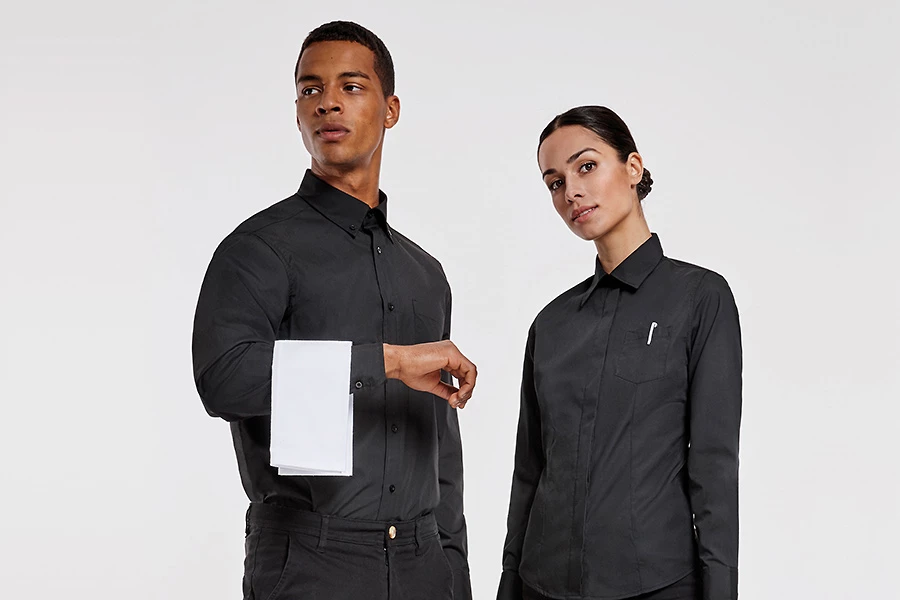 There is often a dilemma as to whether waiter clothes should be 100% cotton or whether the material should be a mixture of cotton and polyester. We have to admit that there is no easy answer. Both have their advantages. Cotton is a natural material, and therefore people wear it better. At the same time, mixtures are easier to maintain, people wear them better, and these clothes last longer. But if we have to, we would opt for a mild mix of cotton and polyester, thus blending natural and artificial material. We should also add that polyesters, i. e., synthetic materials, are becoming increasingly similar to organic materials, both in terms of touch and wearing sensations.
Chef's hat and whatnot
Gone are the days when chefs were hidden somewhere in the back. Today, many kitchens are visible to guests, which give them an additional feeling of homeliness. The latter makes it all more appropriate for chefs and other kitchen workers to be "decently" dressed. The price of quality and comfortable white T-shirt hardly exceeds the price of one cup of coffee. So you have to agree that it is not worth saving in this segment of the business. Besides, you can also add a cotton chef's hat to the chef at a very affordable price. In that case, this will only emphasise your professional approach in the kitchen. However, due to the special conditions in the kitchen, cooking clothes must be made of 100% combed cotton because only such clothes provide the necessary comfort.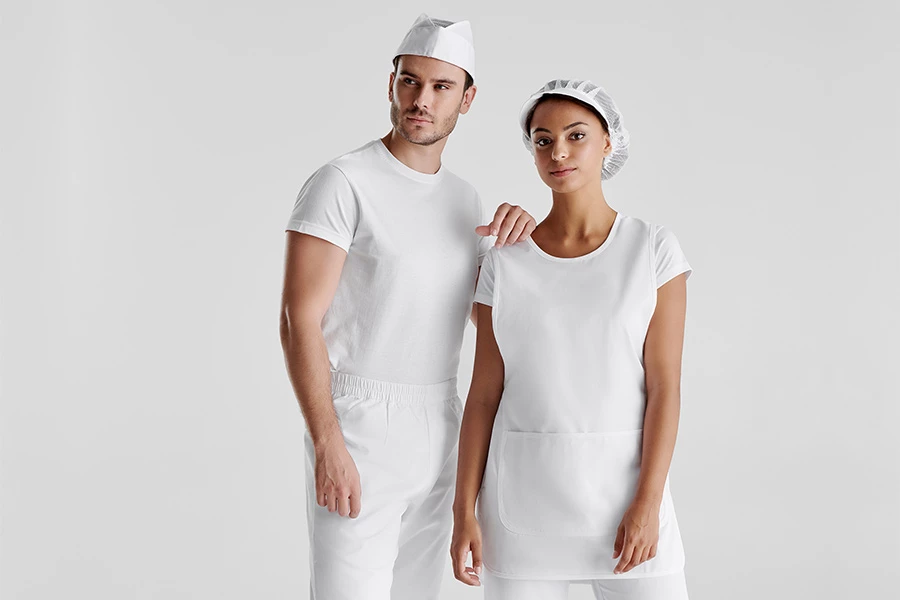 We highly recommend that a logo or advertising message be printed or embroidered on the items mentioned above, which also emphasises your restaurant's brand. In most cases, decent embroidery is enough. Still, of course, printing is often done, especially when we want to highlight something. Because of that, the dimensions of the logo are larger. Therefore, the fear arises that the print would not be durable. But this is superfluous, of course, if we do the printing correctly and professionally while maintaining clothes according to the instructions on the stitched label. Our 30 years of experience are a guarantee that we know how to handle these things.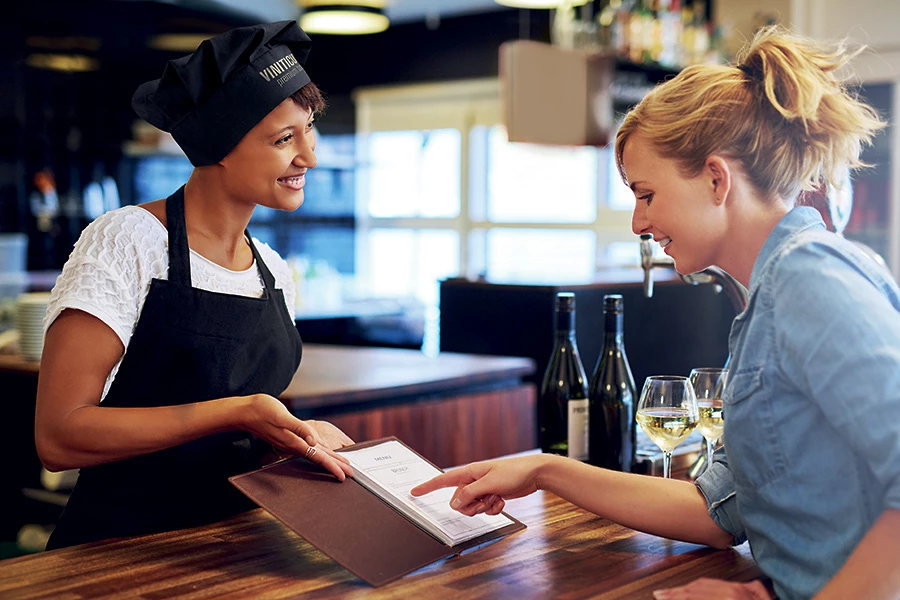 Quality work clothes are not an expense.
We must not forget another aspect. Employees to whom the employer offers quality and comfortable work clothes certainly feel a greater sense of belonging to the company. Their well-being at work is better, which, after all, is also not negligible. You know, a satisfied worker achieves better results. And isn't that the essence of it all?
The uniform, elegantly dressed staff gives each visitor the impression of a bar, where they know how to do service. It is not negligible that the entire visit and visitor experience most often condition the first impression. Therefore, we can say with certainty that investing in your staff's uniforms is one of the more money-making deeds in your business. But, of course, even a beautiful dress cannot replace arrogance, poor service and other shortcomings.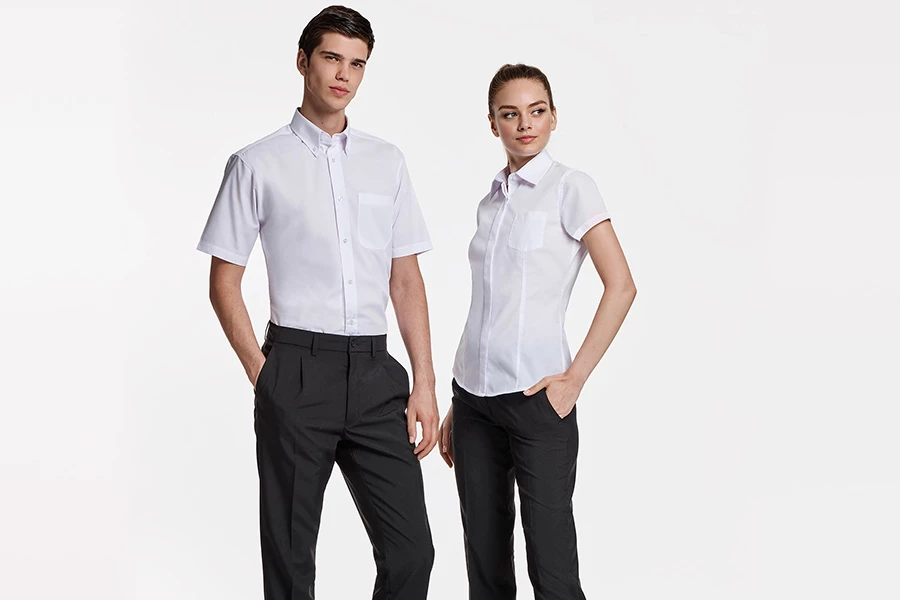 And this tip! Do you have home food delivery? Do your chefs look for kitchen ingredients in the market or shops? Does your secretary go to the bank, or does she have some other business? Why not buy them in a nice T-shirt in the summer or a jacket or sweatshirt on colder days? And print or embroider your logo on them. With minimal investment, you would thus achieve many positive effects from promotion to the professional appearance of employees. Just think about it!
Did we arouse your interest with our suggestions and arguments? Do you have another question, or do you need an offer? Then, contact us, and we will be happy to help and advise you.
Are you determined to purchase uniforms for your employees, but you do not know whether to print or embroider them? In our blog, printing or embroidery on textiles, we answered most of these questions.