This decision is a standard issue for almost every customer who decides to buy a promotional textile. And believe us, even with our more than 30 years of experience, we do not have a unique and straightforward answer.
What are the advantages of printing or embroidery?
The advantages of one or another technique are different from case to case, and only one thing is sure. Both printing and embroidery are persistent and of high quality, if they are correctly and well-designed. Unfortunately, doubts in persistence, especially considering printing on textiles, is present in many customers. Only and, above all, due to poor experience from the past. But believe us when we say this is entirely unjustifiable. Excellent and high-quality printing on textiles will withstand much washing and cheer you and your business partners when adequately maintained. In a few cases, we will compare these two branding techniques and highlight the advantages and disadvantages.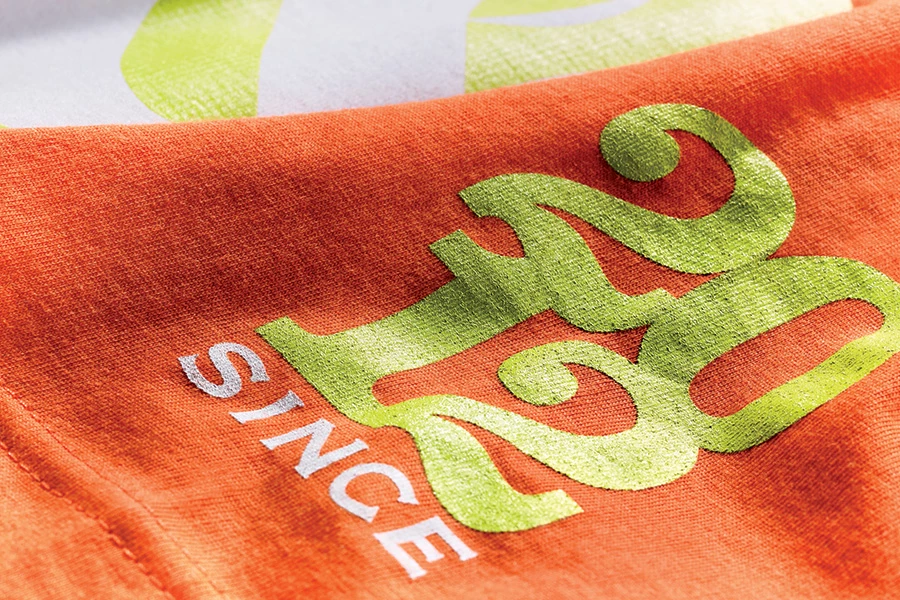 When do we print and when embroider?
Indeed, the most common item for which our customers frequently ask is T-shirt. An evergreen promotional gift with a rich practical value and a large surface for your advertising message.
One of the basic categorizations of the T-shirts' material is grammage (weight of material per m2). And it's precisely this information that significantly affects the decision whether we will print or embroider our T-shirts. We usually prefer to print T-shirts made of thin material (lower grammage per m2). After all, embroidery represents a harsh interference in the material structure, there is a possibility that the primary material will begin to get loose at the edges of embroidery, resulting in a fraying of embroidery threads from the T-shirt, especially after washing and wearing it.
The thicker the material is, the possibility of that happening becomes lesser. A kind of informal limit is at 180 gsm, which does not always hold because the quality of the T-shirt's material does not depend solely on the grammage, but many other factors. We wrote more on this in the blog: What is a good promotional T-shirt?
A similar example is polo shirts, where we rarely meet a material with a smaller weight than 180 gsm. Compared to a T-shirt, the logos are usually smaller on the polo shirt, so the embroidery frequency is much larger than the printing. The look of a shirt is also not negligible because embroidery on a polo shirt looks richer and per the primary item. It's hard to imagine a T-shirt that would have embroidery on a whole front site, which would hang on the one that would wear it.
Promotional sweaters are also an item for which it would be difficult instantly to say what is better. Indeed, the primary material is suitable for both techniques, but in most cases, the size of the print or embroidery is crucial for deciding. The exceptions are only fleece sweaters or sweatshirts, which we can only embroider due to the material's surface.
As can be seen from some of these cases, the decision on the textile branding technique depends mainly on detail, which is difficult to anticipate in advance, so we usually accept the decision with the buyer on order.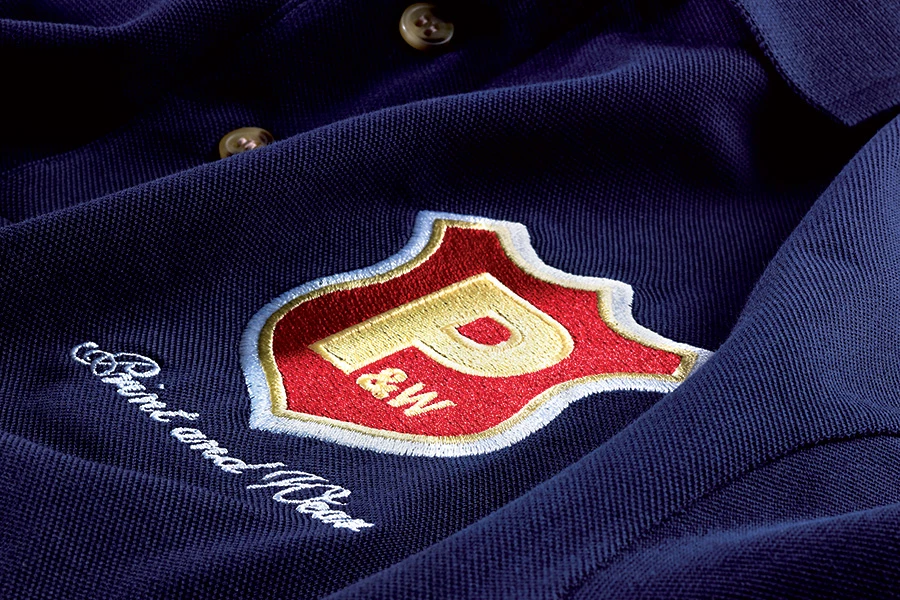 What is the difference in price between printing and embroidery?
Indeed, the significant factor in the decision making is also the price. Some rules are good to know before making a decision.
When doing embroidery, the price is set according to the number of needle stitches in the material. So, the bigger the logo or advertising message, the higher the price. However, the number of colours in embroidery, in principle, does not affect the price.
With the printing, in particular the screen printing on textiles, it is reverse. The size itself does not affect the price, but the product becomes costlier the more colours the logo has. A little different is the pricing at DTG printing on textiles, which we will explain a bit later.
So if we summarize, the smaller the logo is, the embroidery has a more competitive price and vice versa. The printing is more favourable than embroidery when there are fewer colours. The calculation of embroidery expenses is based on the number of needle stabs. The printing price initially depends on the number of colours and in the next step also from the print dimension.
We repeatedly encounter cases when the customer wants to have a massive amount of data embroidered on a small surface; we like to say that they also wish to put the shoe number on the selected promotional item. We must be aware that the embroidery needle itself is almost 1 mm thick, and this fact limits us in the production of details in embroidery. With printing, these capabilities are higher, and by adding adhesives to colours, we achieve good durability of relatively tiny dots or letters.
When choosing between printing and embroidery, the structure of the promotional textile material is also crucial. There are materials whose structure does not allow printing. Fleece jackets or sweaters are such an example. We can also print only on towels with a border, while embroidery on the "furry" part of the towel does not present a problem. For example, embroidery is also not carried out on sports shirts because the embroidery stitch can cause issues on sweaty wet skin.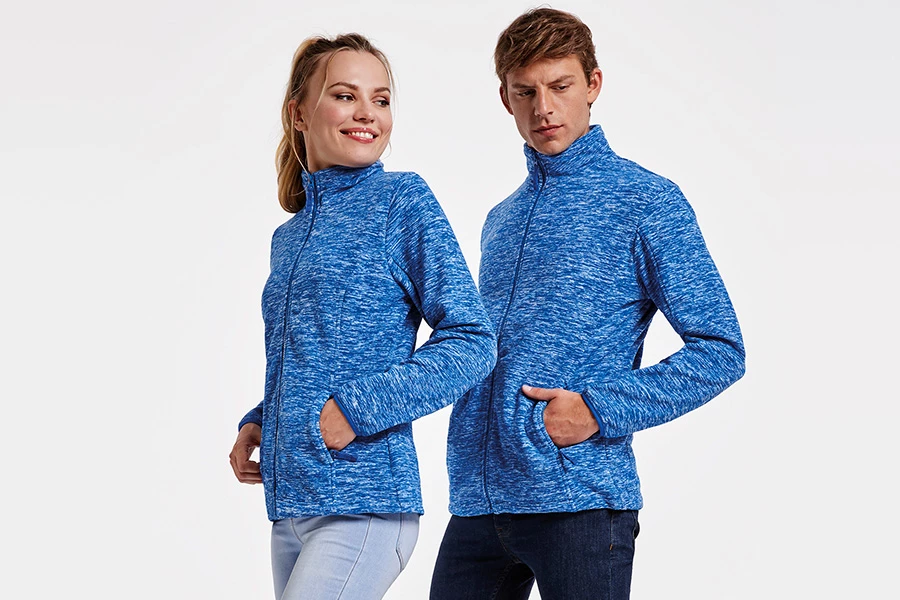 And last but not least, it is necessary to mention the preparation for printing or embroidery. It is essential to create a program that we can regularly use when doing embroidery if we do not change the logo or promotional message. With the new orders, only embroidery expenses are there to settle.
It is necessary to create new screens at each order in printing (because old ones are washed after use), representing costs every time there is a new order. Partially, we can save this by producing mappings to stock, which also have their own shelf life.
The exception to textile printing is DTG print (Direct to Garment), where we do not charge preparations, but only printing on a shirt or some other piece.
Printing techniques on promotional textiles
We know several printing techniques on promotional textiles. Some of them are new, and some have been used for centuries. They are all high-quality if they are performed correctly and professionally but are not universal, so we most often talk to the client before ordering. Together, we find the most appropriate way of manufacturing, which must be optimal.
Direct screen printing – is a technique in which we refer the colour directly to textiles through the net. This method is suitable for more significant amounts of promotional items. It is an affordable and persistent way of printing on a promotional textile.
Screenprint mapping – is the technology where the colour is applied to paper with the screen prints. We add glue for more excellent durability and transfer it with the heat press to textiles. This mode is suitable for small quantities and orders that contain many colours in the logo.
Printing with Flex Foil – is called technology where polyurethane foil is treated with a cutter. Then, the unnecessary part is cleaned, and the residue is printed on textiles. This technique is suitable for unique prints or minimum quantities. Usually, the foil is coloured, so the colour selection is limited. We also have a Print & Cut cutter in our company, where we first print on the foil the desired motif, which we then continue to crop.
DTG print – is a newer technology wherewith the specially designed printer we print directly on textiles. This technique is very suitable for making unique pieces of clothing. However, due to the complexity of the preparation and the longer time, it is inappropriate for larger batches. The print itself is persistent, there are no colour restrictions, but the price is slightly higher, which the originality of the item easily outweighs.
As we have already said, the print quality depends on the performance. However, the maintenance of the product is also essential. Each piece has a label with instructions sewn in, which we must consider, so a promotional or business gift serves a purpose for a longer time and advertise your company or brand. For this purpose, we have repeatedly added a paper tag on the customer's request, which includes instructions for use and maintenance besides the dedication and contacts.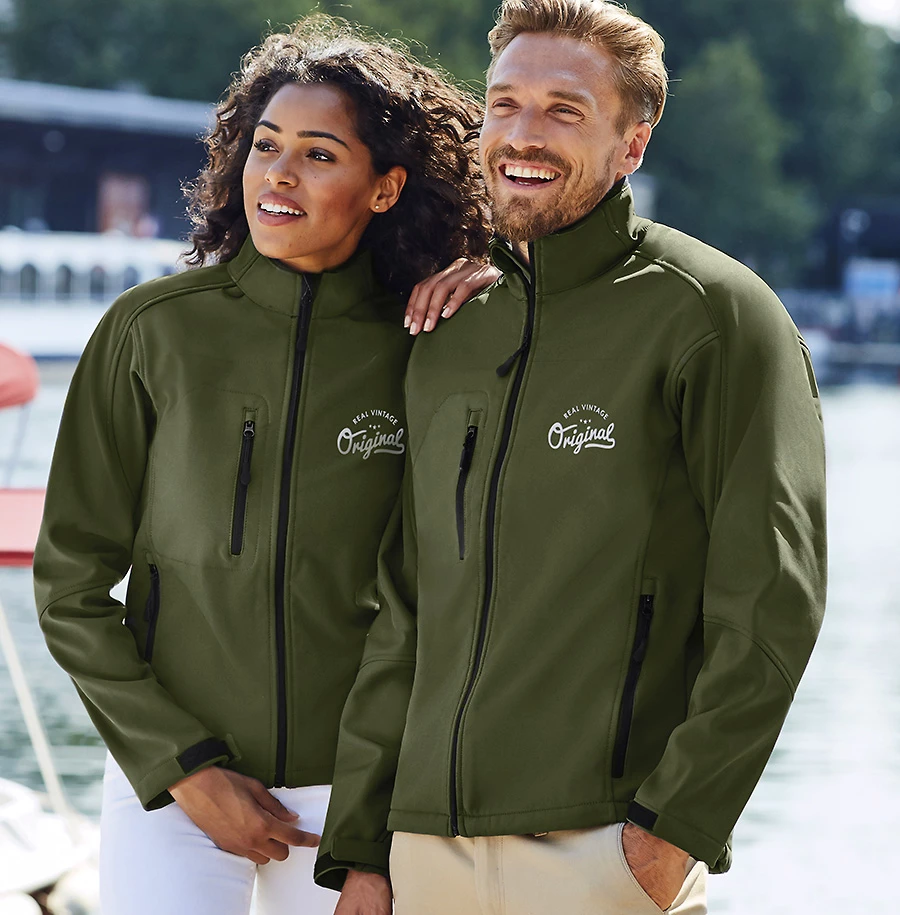 Mechanical embroidery techniques on textiles
From experience, we can tell that our customers ask with fear regarding embroidery because mostly a kind of thinking is rooted in them. This branding technique is costly, and clients are afraid their intended budget will not be sufficient. Without worry, we can assure you that embroidery on promotional textile is affordable, especially if compared with the appearance of the finished product.
Embroidery adds elegance and a luxurious appearance to your promotional gift, which can mean the difference in whether your polo shirt will remain in the closet or will the gift recipient happily wear it and thus spread the promotion of your brand or company.

In our company we offer:
Classic embroidery – is a branding technique where we mechanically sew your logo or advertising message on textiles. Such an embroidery stitch is permanent, and its appearance on your promotional or business gift will convince you.
3D embroidery – If you want your logo to stand out on the promotional gift literally, 3D embroidery is a branding technique. 3D embroidery adds a dimensional depth to your design by raising your logo from the product's surface with the added layer of foam. Very often, this technique is used on summer caps.
And this interesting fact. Machine embroidery began in 1964 when Tajima started to produce and sell automatic embroidery machines TAJIMA Multi-Head Automatic Embroidery Machines.
What must be a graphic preparation for printing or embroidery?
To optimally carry out the branding of your business or promotional gifts, we need quality prepared files for manufacture. Therefore, we are most pleased when you send us vector files in EPS, AI, CDR, or PDF format (maximum quality) without compression. Always convert your texts into curves, and define colours using Pantone Colour Guide (C) coated scale.
Of course, we are always available to help with this preparation, but we can also create files in our graphic studio. So contact us, and we will find an optimal solution for you.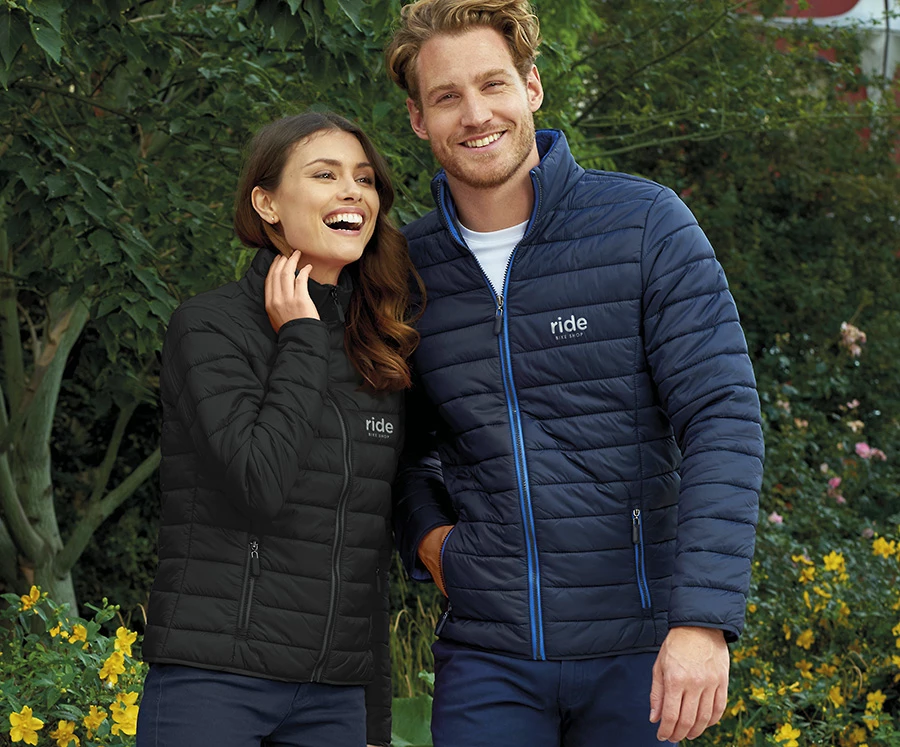 And for the ending
If we conclude with words from the introduction; You must believe that there is no unique answer, what is better and what is cheaper when trying to decide on printing or embroidery on promotional textiles. We will talk to you in detail about your specific case before ordering and, based on our many years of experience with promotional materials, advise you on an optimal solution. Since for us, only a satisfied customer counts!
Want to know more about promotional t-shirts? Read the blog Promotional T-Shirts - everything you wanted to know.