Sportswear is an active promotional gift
We are all increasingly aware of the importance of taking part in sports for its positive effects on our health and well-being. That's why practising sport every day has become a lifestyle for most people, including your employees and business partners. In this case a piece of sports equipment is something they will be grateful for, and if it has a logo or advertising message on it? Even better! They'll become your personal promoters.
Recreational or sporting events provide a window of opportunity for good and cheap promotion and that's why both, small and large companies like to use this type of advertising. Sporting events are charged with positive energy and therefore often remain in memory for a long time.
It's not unusual to see a team in a recreational run wearing uniform T-shirts with the sponsor's logo on the back or see them carrying their sports equipment in uniform bags printed with a promotional message from their sponsor. If you are a regular gym-goer maybe you've noticed that almost no one works out in a 'simple t-shirt' but promotional t-shirt which is almost the norm. Be sure that these T-shirts are noticed and are gathering a lot of website hits. According to the Advertising Specialty Institute the CPI (cost per impression) for a promotional T-shirt is just €0.002. Every marketer knows that you can hardly go cheaper.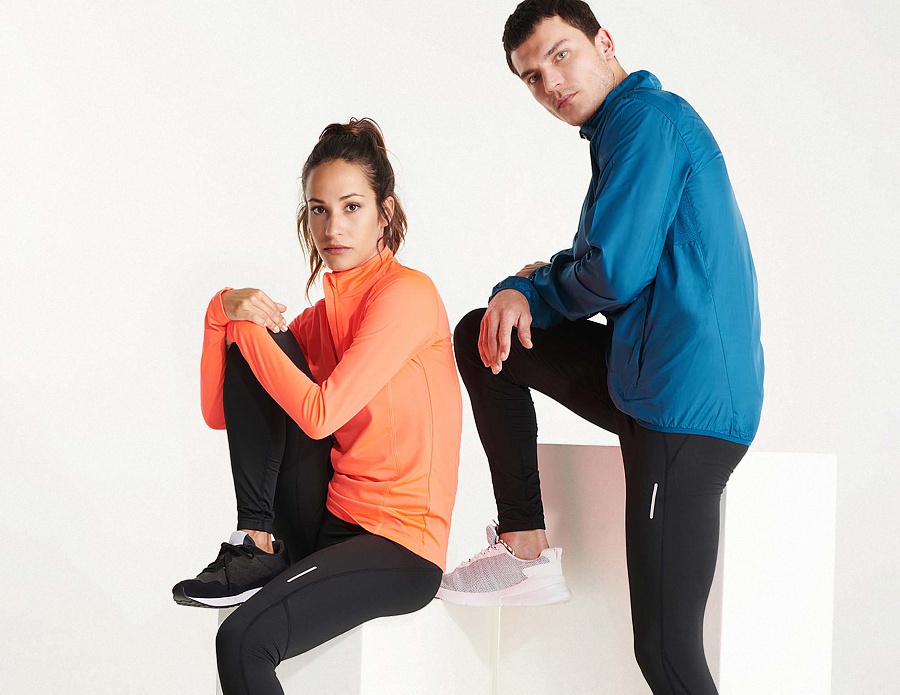 Our company offers quality women's and men's sportswear for training:
sports jackets
tracksuit
jogging pants
tights
leggings
All items can be printed or embroidered. We can also wrap them for you and/ or add a personal touch. Do not hesitate to contact us or send your enquiry and we will gladly advise about designs and branding techniques.
If you would like to find out more about the benefits of our sportswear and branding, we suggest reading following article Printing or embroidery on promotional textiles?