"A thoughtful gift is a relevant gift. It is a gift that aims to keep the recipient satisfied and happy."
Have you ever found yourself stuck in a situation where you don't know the perfect gift for someone who looks like he or she has everything? Or have you ever gone to an event, and your gifts for the celebrants seem to be just another common regular item?
We all have that one person in our lives who always has a special space on our list. That someone is always impossible to please because surprisingly, he or she always has a similar item to your gift. That special someone is always hard to shop for because you need to carefully select gifts that suit their taste while making sure it's a new product or item to them.
Worse still, the person might come off as picky if your gift is not appreciated, cherished, or even dumped somewhere. Well, he or she can't help it because they have a lot of old and new products. Latest, common and expensive products, they all have it. Therefore, going on a gift search for them seems to be a daunting task indeed.
Sometimes, your friends, family, boss, client, neighbor, and more might fall into this category. They don't need more additions as anything more might be too indulgent or frivolous to them. Simply put, they don't need anything because they have it all already, everything and more.
Additionally, it might be impossible to shop for the person if they are a perfectionist, and tired of receiving just another promotional product to their catalog. Thus, you must allocate your time and money wisely to buy thoughtful gifts that would resonate well with their interests, and it seems like promotional gifts might be the perfect answer.
Would you like to be guided in making a good decision for the next time? Then, this article would share great promotion gift ideas on "Gifts for someone who has everything", as outlined below.
What to get the person who wants nothing
Tokyo Solar - Backpack solar
Ginkgo solar tree 4.000mAh
Swiss Peak action camera set
Air wireless charging notebook cover A5
C-Secure RFID cardholder & coin/key wallet
GRANDO - High-class pen set in a gift box
Bopp Fruit infuser bottle
What to get the person who wants nothing
"What are the gifts for someone who has everything?" seems to be the question you ask yourself. You think of that one person, and you are faced with trepidation because you don't know what to buy for them. Well, you've come to the right place to know the type of promotion gifts for him or promotion gifts for her.
Sometimes, gifts that are practical and tailored to their interest would get you a plus, and even better when it's branded or personalized for them. Consider buying a random or weird gift that they would use and love. Thus, promotional items can function as those odd but brilliant gifts to the rescue.
The promotional gifts can cut across a wide range of catalogs such as gadgets, office items, appliances, wears, stationery, home, and kitchen items. Examples of such items can be a solar backpack, a solar tree, an action camera set, a wireless charging notebook, a cardholder and coin/key wallet, a high-class pen, and a fruit infuser bottle.
Tokyo Solar - Backpack solar
For someone who's always on the move, backpacks are practical and valuable promotional items to consider. A branded backpack with a logo, text, artwork, or design would look more appealing to your recipient. Also, backpacks come in varieties, ranging from different materials, designs, shapes, sizes, and colors.
Backpacks are thoughtful promotional gifts because people take them everywhere. It would earn you more bonus points as it is branded merchandise that won't end up in the trash or closet because of its usability. They can also function as good corporate gifts for your employees or clients.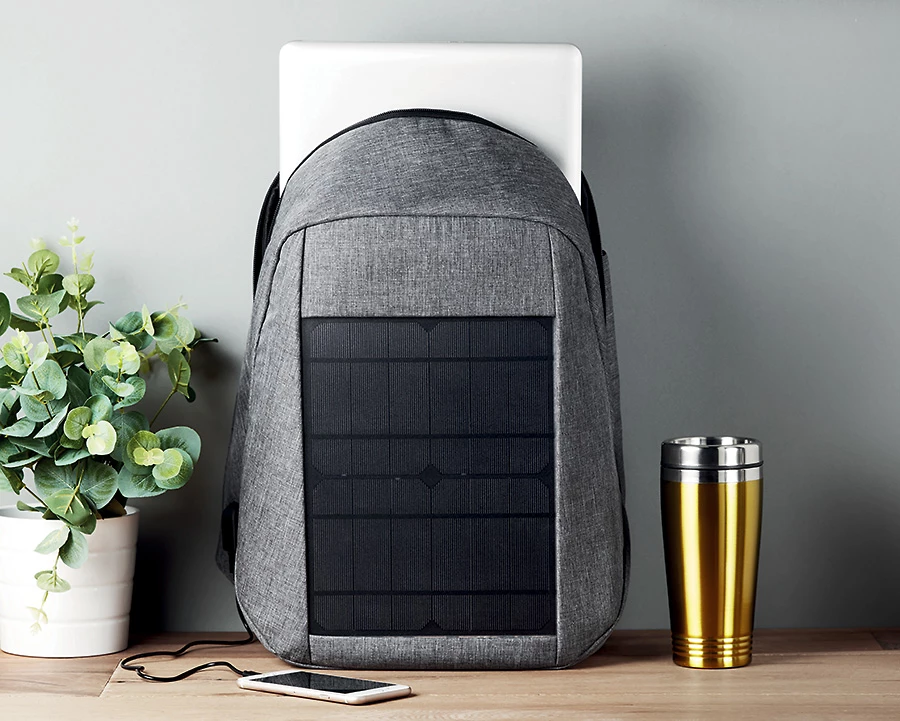 As mentioned earlier, a backpack can come in different varieties, but you should consider an eco-friendly gift such as a solar backpack. Solar energy is cheap, clean, easily available for use, and can be branded. A branded solar backpack usually has a solar panel for harvesting green energy and a USB port and cable for charging devices.
An example of a solar backpack is the Tokyo Solar - Backpack solar. It is a polyester backpack that's perfect for someone who has everything as it offers more functionalities such as solar charging with a charging time of 2-3 hours and a built-in 10W solar panel charger with a USB port and cable. Also, it has several pockets, including enough space for a 13-inch laptop and another for a tablet.
Ginkgo solar tree 4.000mAh
A solar tree is an environmentally friendly choice of power that can recharge a wide range of devices such as android phones, iPhones, iPad, cameras, and more in a lesser amount of time than usually required. It's good promotional merchandise that can be given out as gifts or shared with others because of its value and usability.
The Ginkgo solar tree is a good branded solar tree that stands out because of its larger solar panel made in the innovative design shape in the form of a Ginkgo leaf. It has a maximized solar panel's surface area that can absorb the green energy more effectively but is designed in a minimalistic approach, drawing inspiration from the Gingko leaf.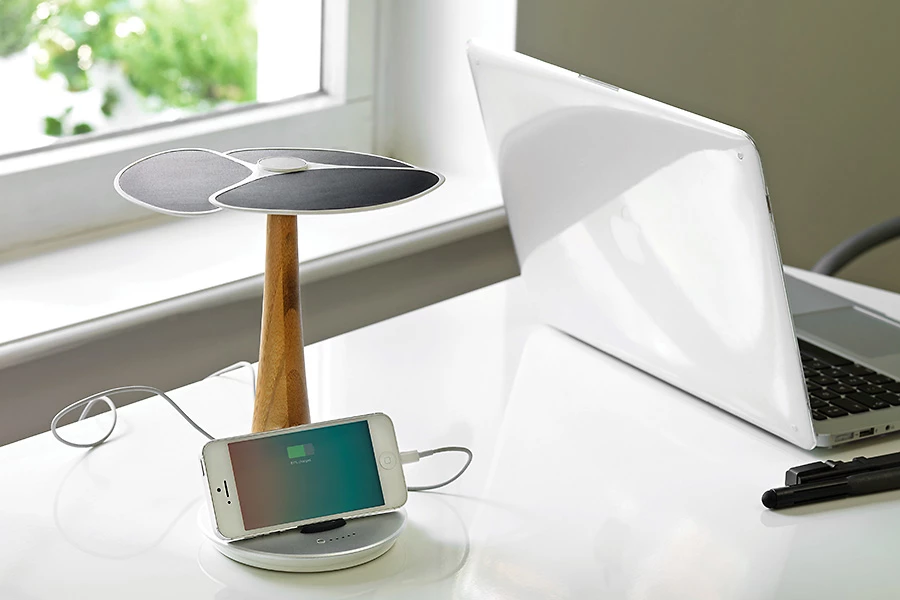 Thus, the carbon footprint is reduced in terms of space and amount of material. Also, the use of sustainable materials such as bamboo and reSound (made of biomaterials & PC), contributes to this effect. Thus, Gingko solar trees would prove themselves as generous and thoughtful promotional gifts from you.
The Ginkgo solar tree 4.000mAh has a panel to harvest solar energy and an integrated 4000mAh rechargeable to store the solar energy for use. It has small LED's for displaying the capacity and a USB output to charge your devices. Pointedly, the solar tree is made up of eco-friendly materials such as ReSound and bamboo.
Swiss Peak action camera set
"A picture is worth a thousand words." Sometimes, a camera is preferred over a smartphone for photography and videography, especially if the user is creative, quite handy, loves vintage or old-fashioned. Thus, a camera set is another great appreciable promotional merchandise you should consider as a promotion gift for him or her.
A camera provides an opportunity for commemorating memorable experiences and great events. Thus, a camera set seems to be the next best thing for someone who has everything or can't say what they want,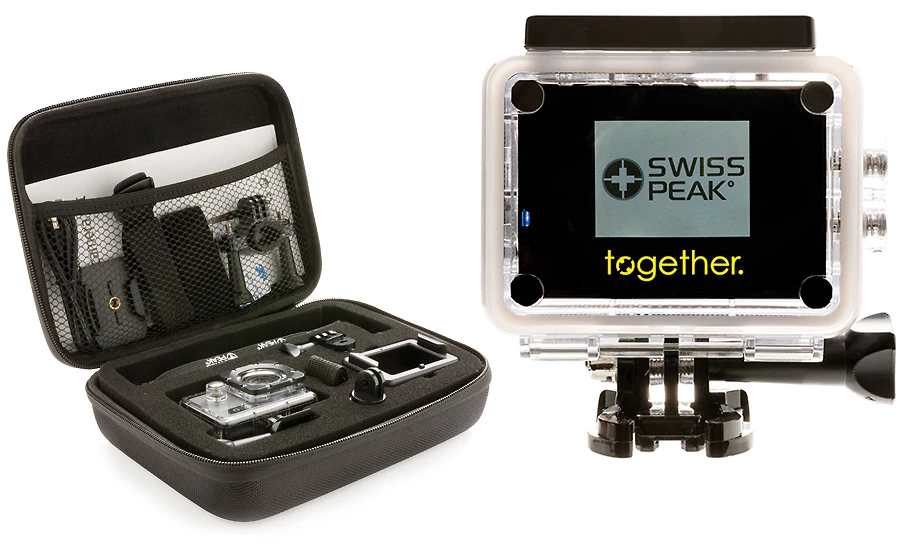 For someone who loves taking pictures and a photography enthusiast, a camera set provides all they need to get started, use and maintain their camera. Also, you are encouraging their creative interests as they get handy and explore the new tools in the camera set. You can bet that it won't be turned down or frowned upon
An example of a branded camera set is the Swiss Peak action camera set. It is a full HD action camera with a wide-angle, 120° function for great coverage, and a 650mAh battery for longevity. The camera set includes a super-strong ABS selfie stick, a handy Swiss Peak travel pouch, and about 11 accessories.
Air wireless charging notebook cover A5
Why go for a plain notebook when you can purchase something uncommon, and efficient such as a wireless charging notebook?
Indeed, this might be a valuable gift for someone who has everything because notebooks are known as well-received branded corporate gifts.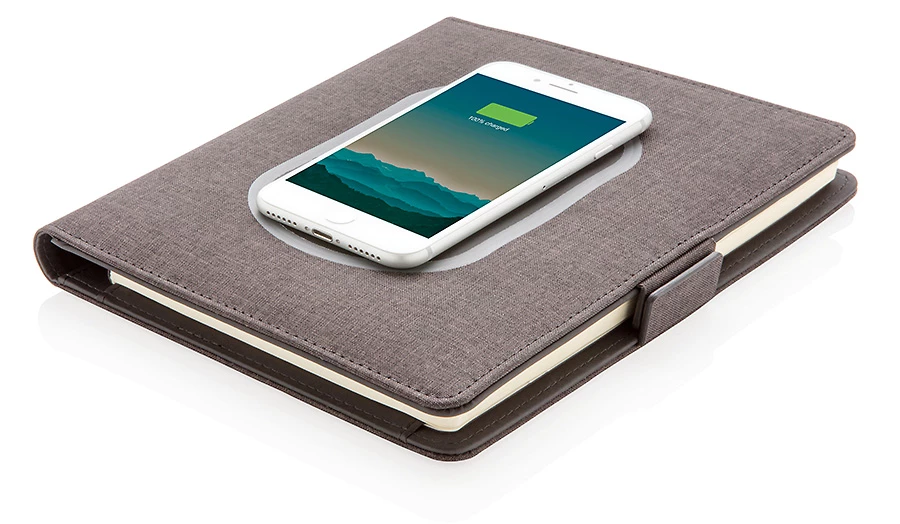 It's perfect as an office gift because it's a multifunctional promo gift that serves as a wireless charger, notebook, power bank, and maybe even more with extended features. The notebook gives a sense of distinction and style to the user when seen with it, giving an ego boost and more confidence. Furthermore, it's exclusive promotional merchandise that's professional and yet stylish.
A good brand of the notebook would be Air wireless charging notebook cover A5. It has a notebook cover that can function as wireless charger pads for smaller devices with its removable notebook.
C-Secure RFID cardholder & coin/key wallet
A cardholder or wallet is good for protecting valuable cards while moving from place to place. Also, it is beneficial for protecting and holding items such as cash, coins, keys, and other small valuables.
Thus, a cardholder as a branded gift offers the user a more secure way to carry their small valuables with them on their day-to-day activities. Cardholders are greatly accepted with enthusiasm as corporate gifts by the recipient, and even better when they are promotional items with logos, prints, designs, or a name.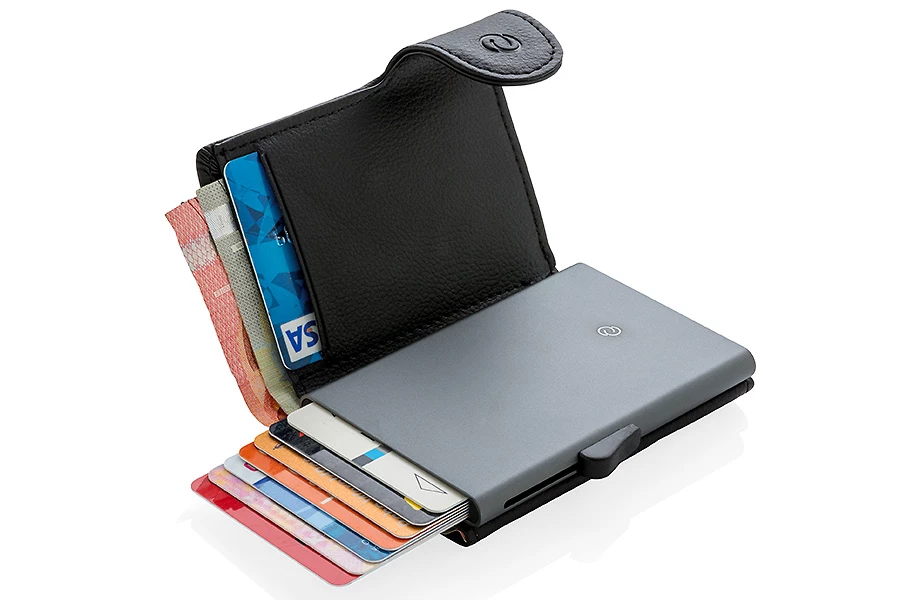 An example of an exceptional promotional item is the C-Secure RFID cardholder & coin/key wallet. It's a solid aluminum cardholder with a wallet that can hold up to seven cards or five embossed cards, cash and has an extra side coin compartment for your coins and keys. Also, the cardholder/wallets can be personalized, with a name, print, or design for the recipient.
GRANDO - High-class pen set in a gift box
Stationeries are known to be good promotional products and business gifts, but high-class pens are exclusive and classic corporate gifts that would work favorably for you. A high-class pen would be a great branded corporate gift because it fits most occasions, and would be accepted by the recipient.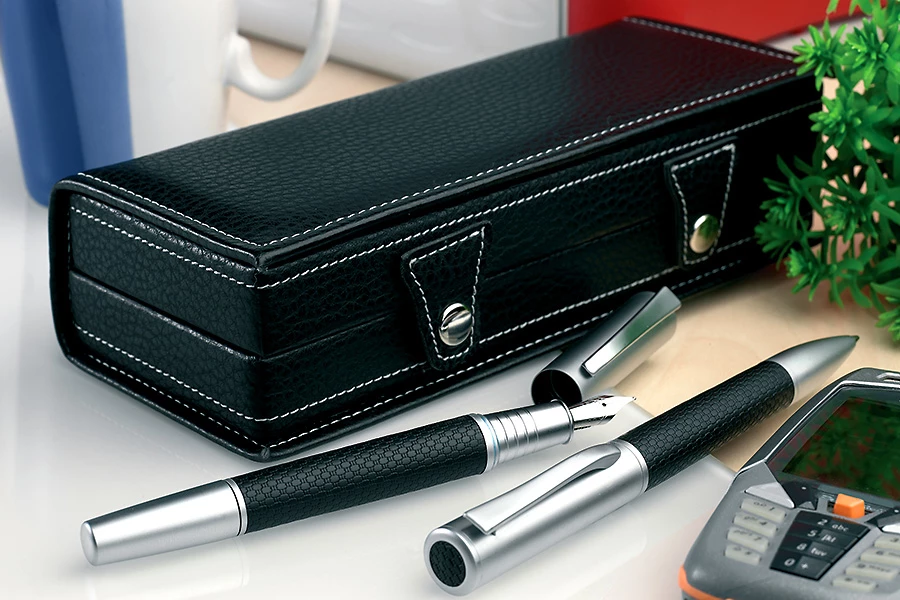 Furthermore, they are timeless, eco-friendly, and can fit into your budget. They are practical branded corporate gifts that promote creativity and boost confidence because of their quintessential, remarkable and sentimental nature. Also, a pen could be the appropriate gift to memorialize a milestone.
A good promotional gift would be the GRANDO - A high-class pen set in a gift box. It is a high-class pen set in a gift box with black ink. The pen can be either a twist ball pen or a fountain pen, and the pen, and the gift box can be personalized, with a name, text, artwork, or design.
Bopp Fruit infuser bottle
A customized fruit infuser bottle is an uncommon but relevant promotional product you should add to your shopping list for someone who you think has everything or is health-conscious. The infuser bottle is just like the typical water bottle, but it can allow for the infusion of natural ingredients like fruits, herbs, vegetables, etc, in the water.
The infuser bottles are a new trend of promotional items to make people stay hydrated on the go while taking in fruits for more health benefits. The fruits add flavor, and color to the water. Also, it is an innovative and approachable way to help people make informed decisions and actions about their decision and nutrition.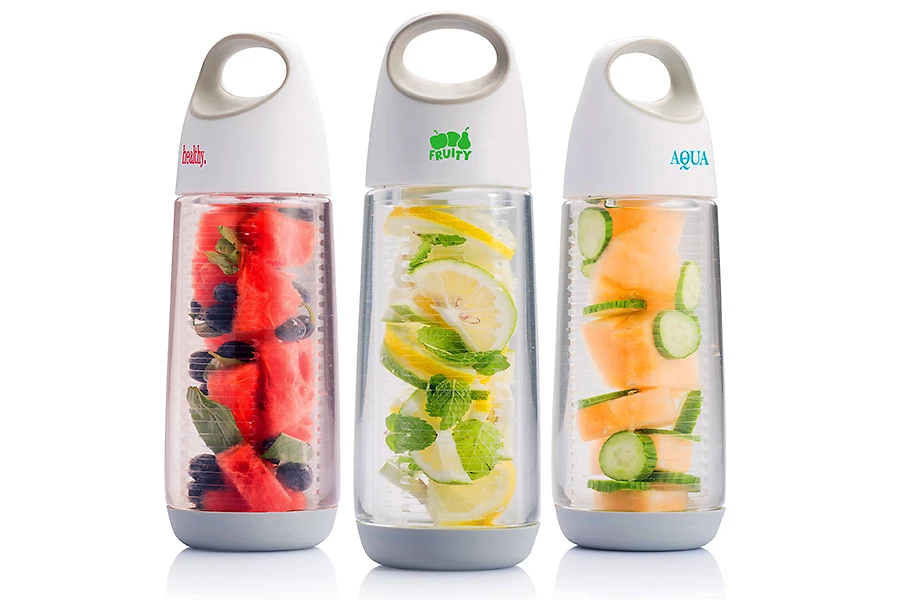 The Bopp Fruit infuser bottle Bopp is another promotional item, which would do well for you. It has a fruit basket in the bottle which allows for maximum infusion and can hold up to 650ml of water. Also, the material is very durable due to the use of Tritan material in its manufacturing.
In summary, this article has shared uncommon ideas on branded items as gifts for someone who has everything, but most importantly, a promotional product that would prove valuable and significant to them. In the long run, these gifts would help you improve your relationship with the person, leave a lasting impression, and express your intentions better.
Want to give a gift to millennials? Read our blog 7 best promotional gifts for millennials.