Promotional umbrellas are your travelling promotion.
Promotional umbrellas in our offer are diverse and available at great prices. We also print your advertising message or logo on umbrellas. You can request a proposal for printing or a larger quantity of umbrellas very quickly on the product page of each item. A promotional umbrella is a valuable promotional gift. Read more about this topic on our blog.
Our company also offers you the production of unique TailorMADE umbrellas, which we supply entirely as per your wishes. You can choose between printing the design perfectly according to your desires. The colour can also be in line with your corporate image. You can also choose from various materials and shapes for handles, shafts, ribs and stretchers. Delivery time is 30 working days, and the minimum order quantity is 150 pieces. Find out more at the Unique TailorMADE umbrellas link.
Did you know that:
a promotional umbrella priced at 10 EUR has a CPI (cost per impression) of less than 1 cent per impression.
the promotional umbrella generates 1100 impressions of your logo in its life cycle.
58% of consumers say that the quality of an umbrella is a significant factor in how long they will keep it.
consumers retain promotional umbrellas for an average of 14 months.
59% of consumers between the ages of 60 and 80 say they keep promotional umbrellas for more than two years.
Source: Advertising Speciality Institute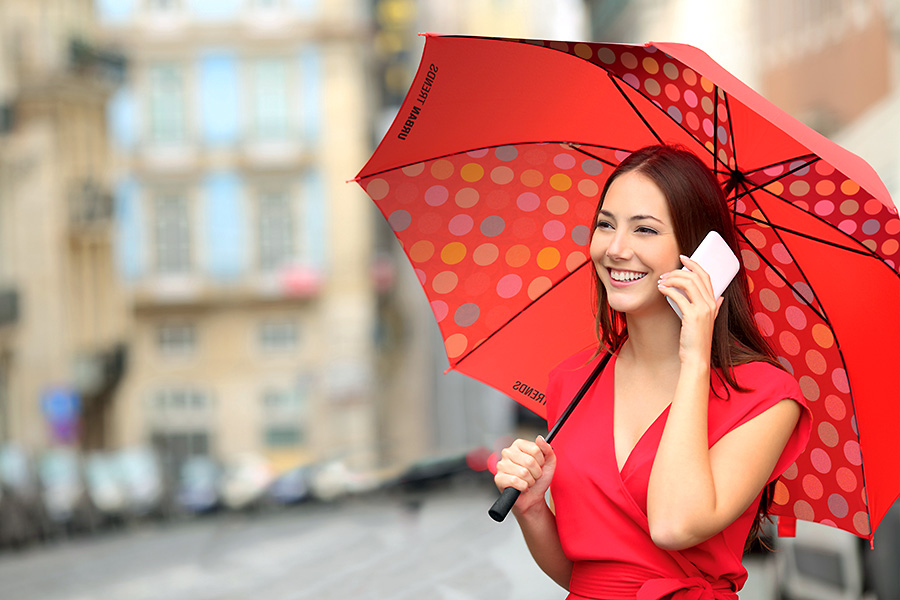 A good umbrella should:
be made of quality polyester or "Pongee material,"
the construction of the umbrella should be light and, at the same time compact, preferably made of glass fibre,
the handle should fit your hand and carrying an umbrella should not be too strenuous.
Promotional umbrellas are certainly one of the most appreciative promotional gifts, as the large print area offers countless branding options. Their usable value is their added value as well. Promotional umbrellas are one more proof that a financial investment in promotional or business gifts is a good investment.