Quality aprons for waiters, chefs or a promotional gift
Aprons with print or embrodiery are perfect for hospitality workers, caterers, waiters, chefs or just as a promotional gift, if your brand is kitchen or cooking related. In our portfolio you will find aprons that will serve you well in your restaurant or bistro as workwear uniform and aprons, that will make a perfect corporate or promotional gift. The large surface for printing offers a lot of freedom when designing the artwork, enabling you to captivate the attention of your audience and making your promotion that much more effective.
Did you know that uniformed employees in hospitality industry earn more? Employees that are in constant contact with your clients are a reflection of your company. And it's the first impression that they make on your (potential) customers, that really matters. This is why polite, smiling, helpful and nicely dressed staff is very important, because they show the companies attitude towards details. They give customers a feeling of safety, that their hard earned money is in good hands and customers are willing to spend more. It's why uniforms are considered an investment, which will pay in dividends down the road.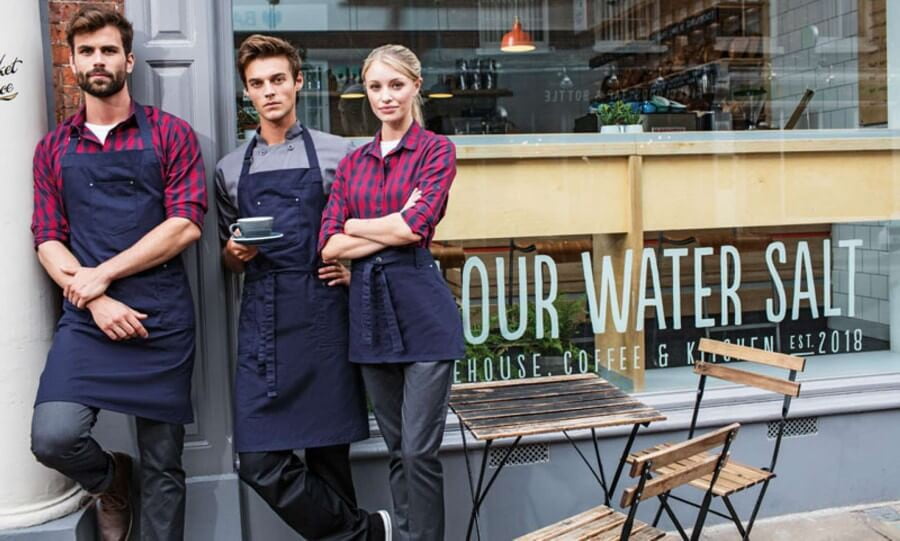 Aprons are also a practical promotional or corporate gift, which your receiver will appreciate. Especially if your brand is connected to preparing food in any way.
Some of our favourites are:
You can easily request a quote for branding on the product page.
Do you need a funny or unique apron in small quantity? You can find them here.