Promotional water bottles are certainly one of the most popular promotional gifts today. Their practical value and friendly surface for all types of branding put them among the TOP promotional products. They are also always welcomed by gift recipients, as water bottles are used almost always and everywhere. However, it is necessary to be very careful what kind of promotional water bottle we will gift and precisely from what material it will be. It is essential that the water bottle is of good quality and made of a material that does not affect the quality of the water in it.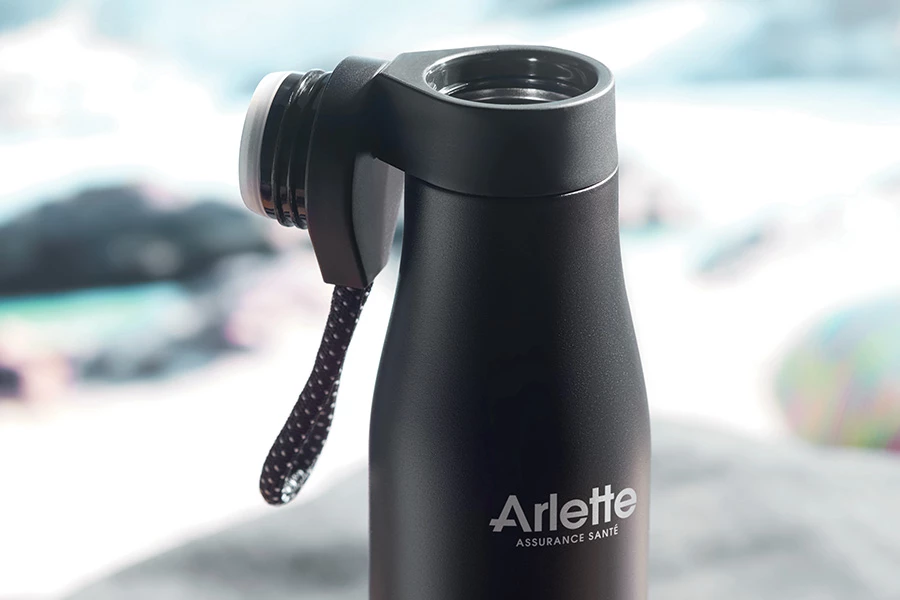 The fact is that there are almost no "harmful" water bottles on the market, as regulations in this area are stringent, and manufacturers and importers have to check such items over and over again. However, different materials behave differently, so it is good to inform yourself about the materials from which they are made before choosing promotional water bottles. We roughly divide the materials from which water bottles are made into three groups:

Plastic water bottles
They are prevalent mainly due to their low price. The most commonly used materials are Acrylotrile Styrene, Polyetheen and Tritan. The latter is characterised as a substitute for glass due to its quality. At the same time, it is much more durable and resistant to damage. The water bottle made of Tritan is safe for both cold and hot drinks.
In most cases, all plastic water bottles are made of quality material, marked with the BPA free marking, so their destruction is safe and harmless to the environment. Furthermore, they are especially popular with athletes, but it is advisable to check the sealing before use so that you are not unpleasantly surprised by wet T-shirts and other sports equipment.

Metal water bottles
Such bottles are made mainly of stainless steel or aluminium. Metal water bottles are primarily recommended for their long life and durability. As metallic materials are resistant to shocks and damages, such bottles are trendy among hikers and mountaineers. They can be used for cold or hot drinks. Metal water bottles and bottle cans, especially aluminium bottles, maintain the drink's temperature very well, which is a good feature that is often welcome. Maintaining metal water bottles is also easier and more efficient.
Metal bottle cans are very suitable for branding with a 360° digital label, where the bottle can is wrapped in printed foil, which gives the water bottle a very professional look. These unique metal bottles are a first-class promotional gift for every athlete, traveller or mountaineer.
Recycling or destroying metal water bottles is harmless to the environment, so they are considered ecological promotional gifts.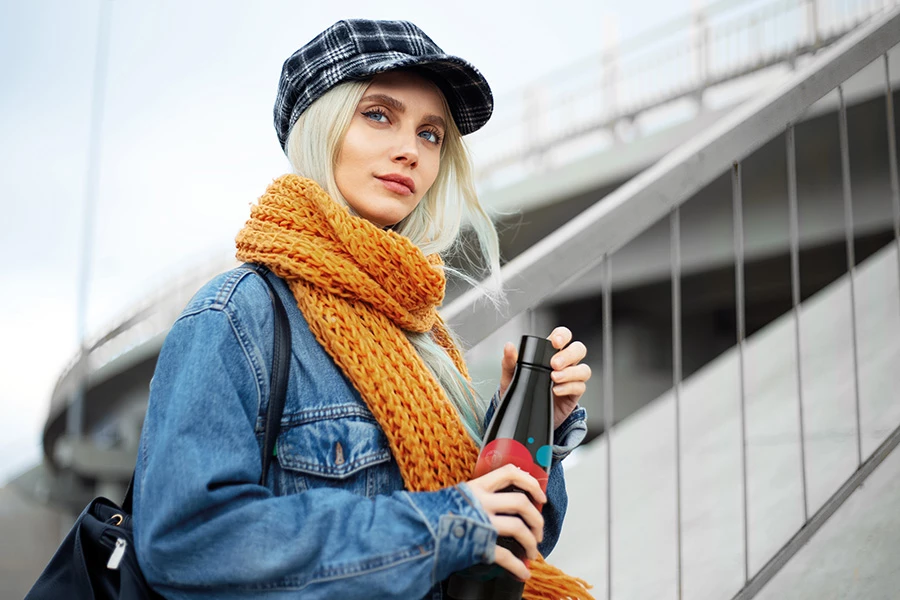 Glass water bottles
Glass has always been used as a material for storing liquids. There must be no impurity of lead or other chemicals in the glass. The disadvantage of glass is its fragility and resistance to damage, so we often use a neoprene sleeve, which protects at least a little from cracks and other environmental influences.
The problem with glass is also its resistance to high temperatures, so glass bottles are only recommended for cold drinks. However, glass is a material that is easy to recycle, so such bottles are considered ecological promotional gifts. Such bottles are handy at home or in the office as a promotional gift.

Water bottles are an original ecological promotional gift.
The very set of materials from which promotional water bottles are made suggests that we are talking about a corporate gift that has a solid ecological emphasis. When we are all becoming more and more sensitive to environmental protection and sustainable living, this is crucial information when choosing the right gift.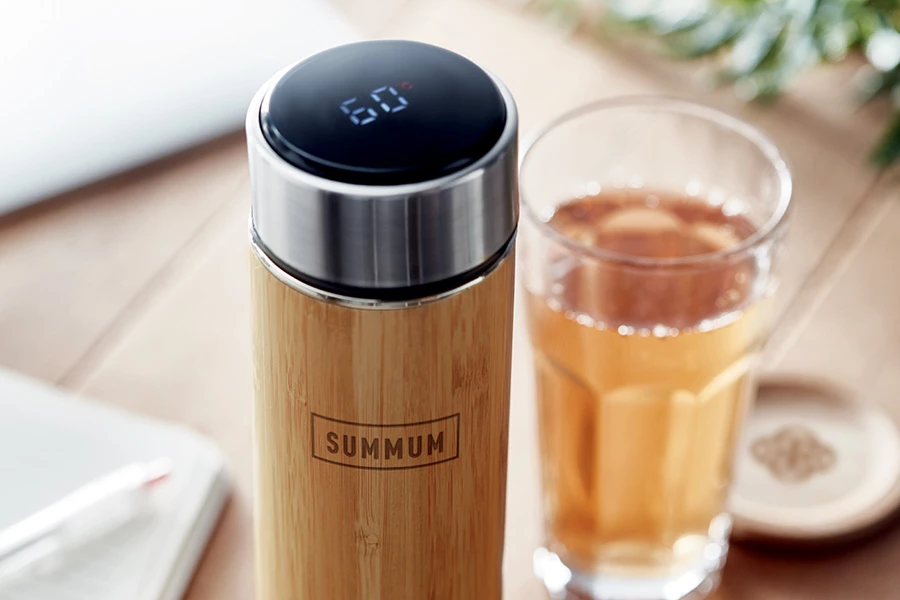 Another even more important fact is that reusable bottles substitute the mountain of plastic we produce with disposable bottles. In Europe, we are lucky in most cases to be able to drink water from the water supply network, and reusable bottles can replace much harmful plastic, which is one of the biggest polluters on the planet. This is why water bottles are one of the essential ecological promotional gifts.
When choosing promotional water bottles, we should not neglect accessories such as corks, caps, strings, sleeves, which must also be made of sustainable materials. Only in this way will you fully follow the goal of the ecological promotional gift.

Why are water bottles good promotional gifts?
Water is the fundamental source of survival, and each of us needs it constantly, every day. Therefore, gifting a water bottle means that you have given a gadget that we use daily, so the gift will be used. In this way, we have fulfilled one of the essential conditions of a promotional or corporate gift, usability.
Water and beverage bottles are usually made of PET (poly terephthalate) plastic. This material becomes toxic and harmful to health due to long-term environmental influences. Giving someone a water bottle will also allow them to store the drink in healthier packaging, which is by no means negligible. In addition, your business partner or customer will continually cultivate positive feelings towards your company or brand using this water bottle.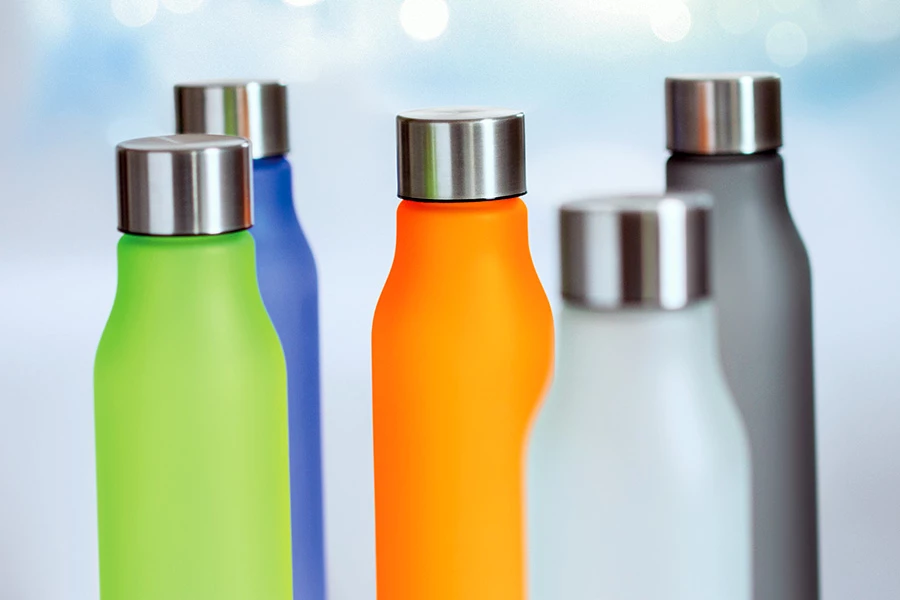 Almost a billion disposable bottles are thrown away in Europe every month. This is a tremendous amount of waste that takes many years to decompose in the environment. Each gifted water bottle means fewer thrown bottles in the environment, and this goal certainly justifies your decision to buy and give promotional water bottles.
And last but not least, the cost of buying bottled drinks on an annual basis is not negligible. There are data that every European spends at least € 500 a year on bottled drinks. Tap water is several thousand times cheaper.

Branding techniques we use for promotional water bottles
Printing or engraving promotional water bottles is also a significant segment of making your promotional gift. To help you decide, we listed all the options, and the basic features below.

Pad printing
This printing technique is the most popular and also the most used. The logo or advertising message is transferred from the cliché, through the pad (rubber), to the product. The main advantage of this technique is the price. The disadvantage, however, is the dimension of the print, which is limited.

Round screen printing
A prevalent printing technique with which we can print an advertising message around the entire surface of the bottle. The print is durable, affordable, and the product itself looks very nice and original due to the print over the whole surface.

Laser engraving
With this branding technique, we burn the logo or advertising message into the top layer of the bottle material. The result is a very high-quality product, and the colour depends on the bottom layer of the bottle material and cannot be chosen. This technique is not suitable for all bottles but primarily for bottles made of metal and glass.

Digital label 360°
We print a promotional design on the foil, which we stick on the water bottle. With this technique, we can print the entire bottle's surface at 360°, the graphic template can be colour, and it is also possible to personalise each bottle. Therefore, this technique is prevalent and visually gives the best results.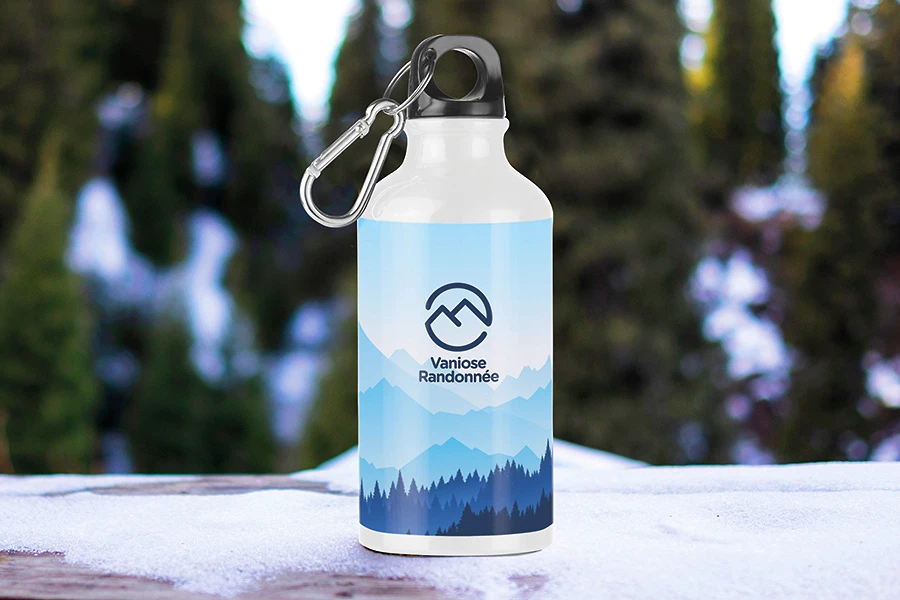 Here are a few more tips when buying promotional water bottles
Maybe you already know, maybe not yet, but giving promotional or corporate gifts is no longer a sign of your kindness or extravagance but a well-thought-out marketing strategy that brings outstanding results, of course, if you do it properly.
However, to achieve as much as possible, your promotional gifts need to stand out among the many others. Nice, printed packaging will help. You know, packaging sells, and the Italians once built an entire economy on design and packaging. So if your promotional water bottle is packed in a box with the logo of your company and an advertising message printed on it, in that case, it will surely meet with a very positive response from your customers, business partners or employees. And don't be afraid. This type of packaging can be surprisingly cheap, especially if you think about its effect.
Do you want your corporate gift to have a personal touch? Add a personal message to the packaging or water bottle. It can be a printed gift tag with a thought, a handwritten note or even a personalised message. Such a trifle costs almost nothing, and the effect on the gift recipient is enormous.
But if you want to go even one step further, we suggest personalised printing or engraving on promotional water bottles. In this case, each bottle will have the name of the gift recipient printed or engraved on it, which will surely arouse a powerful emotional response from the gift recipient.

Personalised gifts are a current trend in promotional gifting, which provide excellent marketing results. You can read more about this in the blog Personalised gifts or how to gift soulfully with a feeling.