"This is how your friends make your day!!! Thank you Branko and thank you team Habeco."
We've got this message the same day as our business partner Aleksander Markuš from Maribor's company VAMAR LLC received his personalized gift. He attached photos of him opening a gift box to it.
And this is just one of the many positive responses we received in October alone when we sent a personalized small coffee pot to our selected customers. We certainly didn't do this for the last time!
Do you also want to gift your business customers with personalized gifts? We have prepared a selection of hundreds of items that are suitable for individual personalization. Contact us for more information, and we will be happy to help you find a more suitable personalized promotional or business gift for you.
What are personalized gifts?
Close your eyes and imagine the perfect promotional or business gift!
Is it affordable and convenient? Is your logo, advertising message and name of the gift recipient visible on the gift? Is the product packed in special packaging printed with your design? Is your personal message added to the gift box? Is it all wrapped in a neat gift wrap? And finally, the crucial question in these times is if the gift is delivered to the recipient's home or office?
Yes, although it sounds a bit futuristic, this type of gifting is entirely realistic. Our company calls it and such gifts - personalized gifts!
A different way of gifting
It's nice to get a gift, and it's very nice to give a gift. Although the latter is often somewhat complicated. By no means because we would rather receive than give, but because we often find ourselves in a dilemma, what to choose, how much to choose, must the gift be expensive, less expensive, practical, beautiful, original or just that there is something to give? Everyone has their own attitude towards different types of gifts, but the fact is that a carefully chosen present always produces a good response.
In a world where we have billions of different products available, choosing the right gift often presents us with a difficult decision. A gift says a lot about us and about the relationship we have with the recipient of the gift and, if we think about it, gifts are a crucial cog in the wheel that drives the world, whether it is a personal or a business gift.
Would you even find an event or a moment that would be inappropriate for gifting? Hardly. When giving promotional gifts to customers or business gifts to business partners, we need to be all the more thoughtful about what to give.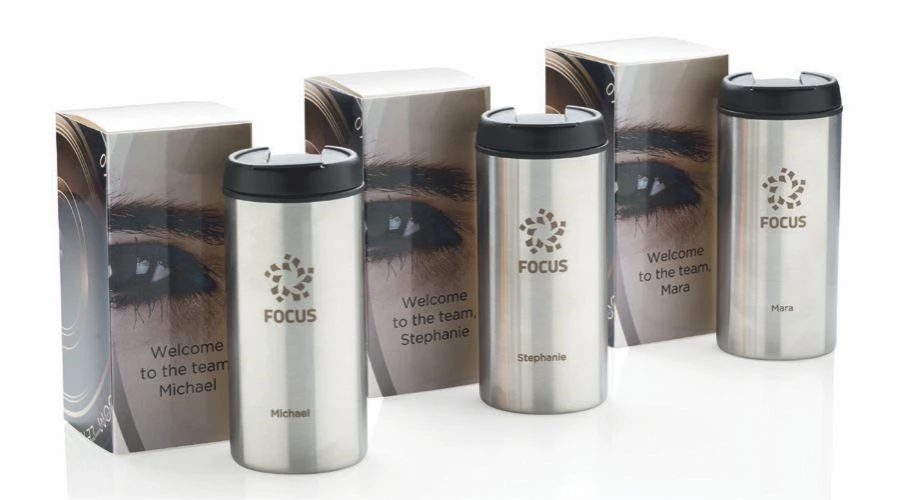 What to gift?
You have assuredly found yourself at one time or the other in a dilemma of what to gift either your employees (as the New Year's present or gift for the successful completion of a project) or business partners (for no reason whatsoever or simply as a sign of successful cooperation). Although store shelves are swaying under the weight of beautiful products, with all the choices currently available, it's really not hard to find gifts quickly at first glance. But finding the perfect present for a wider circle of people, which will be liked unanimously by each individual, is a unique feat.
The solution is personalized gifts. These presents are well received by the recipients. They give them the feeling that you think of them, care for them, know them and that they are remembered.
"Personalized gifts seem much more personal to me and have a deeper meaning in gifting than standard gifts. As soon as I received a personalized letter from the insurance company, I was delighted. Can you imagine how happy I would be if I received a personalized gift?" (V.V.)
"In the age of consumerism, a personalized gift means a lot to me. It contains a personal note, and I know it is meant just for me. It will definitely not just be one of the gifts on the shelf, but rather my own unique gift." (M.B.)
How to find the perfect gift for your customers?
The problem is that we know only our loved ones well enough to choose a gift for them effortlessly. When we want to select presents for our customers and business partners, things can get complicated ... We can only guess after sensibly gathering some information and hope that we have succeeded to a certain extent. But thinking about it can cause many sleepless nights.
When choosing business or promotional gifts for mass gifting, it is good to ask yourself a few basic questions:
How to show the company's values with a gift?
How to express our relationship towards the gift recipients, business partners?
Will this gift bring them joy, make their lives easier, or will it just be an extra thing accumulating the dust?
When we talk about business gifts, everything becomes even more difficult, as we have to find a gift suitable for different types of people. Especially if we are looking for presents which are given at the end of the year.
"I personally don't like expensive gifts as those embarrass me and in a way also impose an obligation on me. But I love small attentions where I can see that someone has really made an effort to surprise me and make me happy with them." (M.H.)
We avoid the problem with personalized gifts that work for every person. These are presents that are becoming more popular by the day, as gift recipients respond to them entirely differently than to the classic presents. Modern technology allows us to print, engrave or embroider a name, nickname, even a favourite thought or verse on each gift.
"If I had received such a gift from my superiors, I would have felt overjoyed, as I would have immediately thought that they really put in the effort at the company and that I mean a lot to them. I would get up every morning and go to work with even more enthusiasm." (N.S.)
We all want our gifts to be liked by the recipients and that they would love them. And with personalized gifts, you'll hit the top prize, as they're unique for each recipient. The latter will really feel like you've made an effort for them, and that's why they will look at you completely differently than they would normally.
"Much more than the material aspect, the gifting to me means the attention I receive when I see someone make an effort and choose a gift just for me - that is, it's not something randomly pulled from Santa's bags.'' (V.H.)
And that's also one of the reasons why business gifts should be personalized.
The other one is to create a good impression for business partners to remember us.
"If I were to give a personalized gift to a business partner, I would give it in two cases: When I knew I could go on a personal level and when I wanted to make an impression.'' (S.M.)
And the impression on business partners can be great in this case. This way, with just a little effort and the same amount of money invested, you can make a great impression and make your business collaboration even more successful.
Do you want to make a positive impression on your business partners or customers? Do you want to give them something that they will remember for a long time? Contact us for more information, and we will be happy to help you find a more suitable personalized promotional or business gift for you.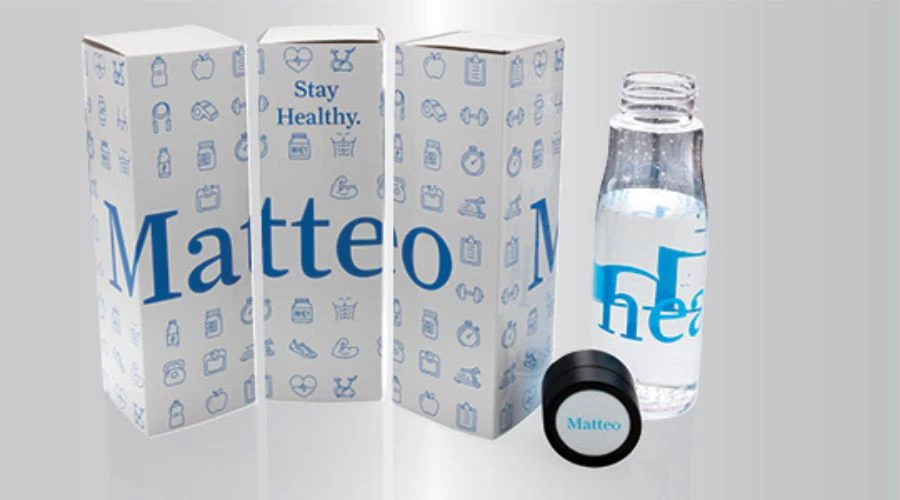 The benefits of personalized promotional gifts
With personalization, each of your gifts becomes unforgettable. These kinds of presents help maintain relationships and strengthen them. However, we have listed a few more reasons why you should choose personalized business gifts in your company and not classic ones, where only your logo is printed.
1. Because a classic gift becomes personal
This type of gift is much more personal with personalization, and it tells the recipient that the person who chose the present took the time to think about him or her when choosing the gift.
2. The gift is more appreciated
Do you remember the flower you got for Women's Day at the mall? Do you recall the chocolate with the logo on it you got at the meeting with the company's director? Do you remember the Christmas present you got from your employer 2 years ago? Do you remember what the promotional cup looked like, which you got when you bought 5 soups? Yeah ... the one you put in the back of the cupboard and threw it away after few years.
Would it be different to get a flower in a pot with your name printed on it or a verse from your favourite poem or song? Would it be any different if you got a bar of chocolate that had a cover with your photo on it? Would you use a cup with your name written on it? Or maybe a cup having your favourite picture drawn on it?
Definitely!!!
Personalized gifts have a higher value for gift recipients than classic gifts. The latter is quickly forgotten. The former, however, always find a beautiful place in the home of a person. In this way, the gift recipient always remembers you and your company when they look at the gift and subconsciously keep it in mind. And isn't that every marketer's dream!
3. They always remind people of your company, and they do hidden advertising for you
Personalized gifts will remind the gift recipient of the person who gave them the present whenever they see them.
Psychologically speaking, it will stimulate positive feelings for the company that gave them the gift. It will make them think about it and make sure that if the gift recipients need a product or service from your company, they will first think about you and your company. They will also remember that you will always be available to them.
4. They are suitable for everyone and for any occasion
It doesn't matter what the purpose of the gifting is and for whom a gift is for. Whether it is for your regular customers, your business partners or for your employees. Of all the choices available, all you need to do is choose one present, which you think will tell a positive story about your company and come in handy for the gift recipients in their daily lives.
5. They help build stronger bonds
Gift recipients often look at gifts rationally. Personalized gifts, however, appeal to their heart. With a personalized gift, you will address the recipient on a more personal level. Thereby, with it, you will better express your affection.
"It's really nice attention that you remember, especially if you get it as a tribute from a company you work with a lot. You gradually start looking at it and those you work with as friends.'' (M.B.)
6.
They stand out

In the multitude of traditional gifts such as flowers, chocolates, key chains, you will definitely stand out if you choose a personalized gift.
You choose it, we will wrap the gift, put it in a neat box and dispatch it.
Once you decide to give a personalized gift, all you have to do is choose an item and personalize it. There are a lot of products available in our online store. They are all suitable for personalization. Therefore, it is best to contact our sales department immediately, who will be happy to help you choose.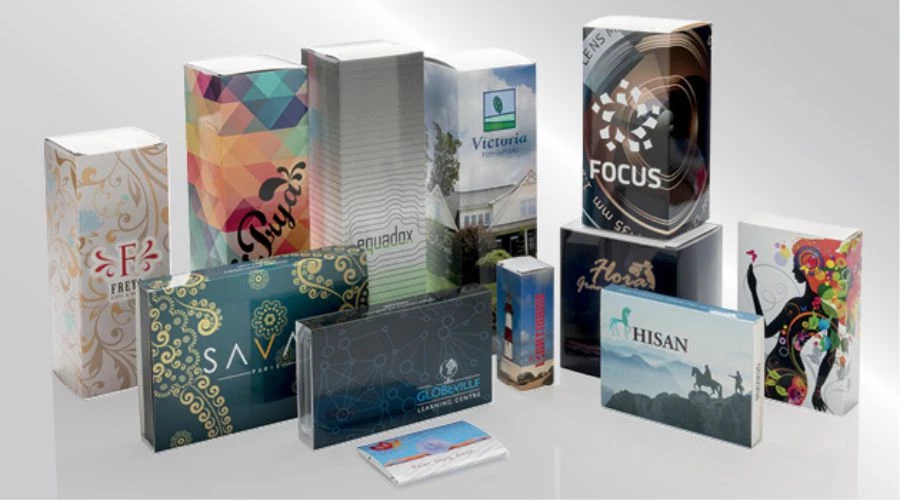 What's more, when you choose a gift and the inscription that we will print on it, we can take care of the gift, wrap it, put it in a neat box, add a dedication and send it to the recipient.
"At our company, at the end of each year, we give a gift to our biggest customers and business partners that they remember. Given the current situation, personal contact may not be desirable this year, so a personalized gift that is neatly wrapped and shipped to the recipient's door seems like a phenomenal idea to me.'' (M.H.)
This is also an excellent way of gifting at the end of this year. It will most likely be very different from what we have been used to so far. For the sake of maintaining your health, you will probably want to avoid visiting clients and business partners. After all, there is a possibility that you will still not be allowed to travel to other parts of Slovenia, and by wrapping and dispatching the gift, we will make the gifting much easier for you.
In addition, there is an element of surprise here, which is something we want to achieve with gifts.
''Amazement is definitely guaranteed with this type of gifting because we surprise the recipient when he or she does not expect it. If the recipient gets it all together in a beautiful gift box. If he admires it and with interest slowly opens the box, he also gets this experience of anticipation, which will make him really remember the gift and your company.'' (V.V.)
When you give a gift that addresses the recipients personally, it becomes much more than just a gift. It becomes a symbol of your mutual bond and the special connection you have with each other. Such a promotional gift shows that you care that the gift recipient has something unique and, last but not least, it is something we all want – to stand out in this crazy world and be aware that we have people around us who think about us in these times.
Do you want to gift your employees, customers or business partners in a unique, personal way? Contact us for more information, and we will be happy to find a more suitable personalized promotional or business gift for you.
A highly successful personalized gift is also a unique t-shirt that you can
design yourself on our website
.
And a little advice on gifting with promotional or business gifts. Always keep in mind the following: if you are giving a gift and spending money for it, give something that will delight the gift recipient, that will come in handy daily, and that will make him remember you and your company in a good light.
And lastly! Promotional gifts are by no means a waste of money, as many people think, but a proven cheapest form of promotion that will definitely pay you back many times over.