"90% of people who receive a promotional product can recall the name of the brand."
We use umbrellas a lot, and for several good reasons too. They can protect us from the rain, sun, and dust. They can be used as a fashion accessory to complement our attire and come in handy as a tool for defense (sometimes). Nevertheless, whatever the reason, it's without a doubt that promotional umbrellas would remain one of the widely used household and fashion items.
Therefore, you should take advantage of this item's popularity by utilizing these umbrellas for your brand or company's advertising tactic. Promotional branded umbrellas are a top choice for brands as a result of their ongoing mobility, and visibility that earns them reoccurring brand exposure. Hence the name, "walking billboards."
There are some things to know about these promotional items and several reasons why you shouldn't neglect them, especially if you want to stand out with your marketing tactic. Therefore, let this article share this knowledge on the topic, "Promotional Umbrellas, Your Walking Billboard" as outlined below:
What is a promotional umbrella?
What makes an umbrella a good promotional item?
Why are promotional umbrellas amazing for branding?
What is a Golf umbrella?
How to make your own umbrella?

What is a promotional umbrella?
Recently, there is an increased use of promotional products as a low-cost advertising tactic to drive brand awareness and business growth. One of these common and popular products is the promotional umbrella. A promotional umbrella is a branded umbrella. It's an umbrella branded with personalized or customized prints, designs, logos, messages, even colors.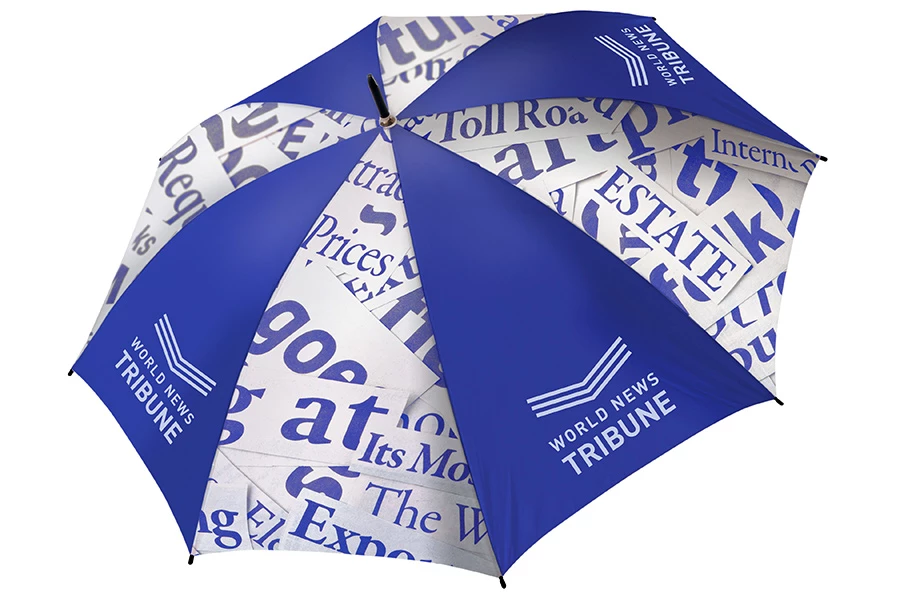 Umbrellas are great for protection from climatic conditions such as rain, blazing sun, thunderstorm, snow, etc., making them a useful companion for traveling or on-the-go movement, as a preparatory and protective measure. This makes them a cost-effective promotional product that would gain impressions and return on investments in the long run.
A corporate promotional umbrella is handy and stylish, making it a good business gift for your employees, clients, customers, and the general public. Corporate promotional umbrellas are practical and versatile, as everyone can use umbrellas for different purposes. Therefore, what better way to keep your brand or business in their heads and above their heads.

What makes an umbrella a good promotional item?
Umbrellas are a common household item and branded gift that people would cherish, keep and use for many years. They are widely used all year round across the world, have a good lifespan, and can be kept for many years, so there's a high guarantee that they won't be easily discarded. This is a good bonus because the longer the lifespan, the higher the use, and the greater the branding or marketing impact.
An umbrella is a good promotional item due to its large surface area that allows for different creative possibilities according to your desires and specifications. Add some personalized logo, prints, or message to your umbrellas, and you'll change them from some regular umbrellas to "walking billboards."
Umbrellas' usability ranks them as one of the best and most desirable promotional gifts, yet they are cheaper when compared to some promotional products. Therefore, promotional branded umbrellas can be produced in large quantities for giveaways during promo sales, conferences, tradeshows, charities, anniversaries. Also, corporate promotional umbrellas can be shared as corporate gifts to partners, investors, and potential clients during conferences, seminars, and other events hosted by your company.

Why are promotional umbrellas amazing for branding?
Custom promotional umbrellas are amazing for branding because they are "walking billboards." They are used by people on the move. This mobility gives it a strategic positioning and higher visibility than some promotional items. Promotional umbrellas are good for brand visibility and awareness because they can capture the attention of the audience effectively.
Simply said, the more your promo product is used, the more exposure your brand gets at a lesser cost, and lesser effort. Since umbrellas are a common household item, there's a greater chance that every family member would borrow and use them as they commute to different places, thus widening your brand reach and visibility with no additional cost or effort.
Corporate promotional umbrellas are great for giveaways at events, being part of an advertising campaign, or guerrilla marketing tactic because they are also amazing for business exposure, especially when you pair it up with other promo items or a business flier. They can also boost your employee's morale when distributed as incentives, a good move that would strengthen your brand image and team spirit.
Furthermore, they are versatile and generic. Custom promotional umbrellas can be shared with everyone, regardless of age, gender, lifestyle, and more. This increases the acceptance level, thus increasing its effectiveness as a great branding tool and advertising tactic.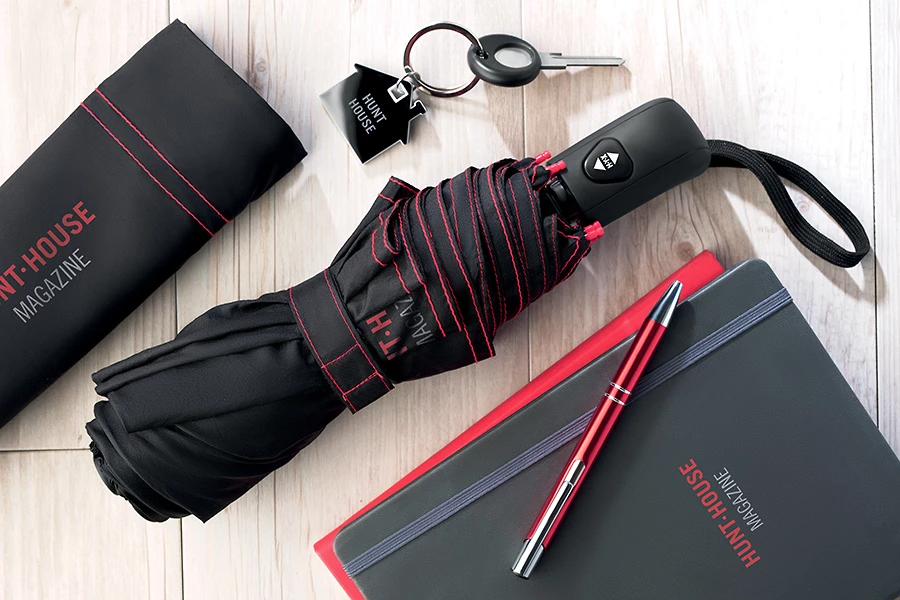 What is a Golf umbrella?
A golf umbrella offers golfers and spectators protection from the sun, heat, wind, and rain. It is larger than the regular umbrella with a design to protect the golfer and basket. Commonly used on golf courses, the umbrella is an essential accessory on the golf field and some sports events. These umbrellas are for golf courses, tournaments, and country clubs, earning their stand as valuable promotional gifts because they offer protection, value, and style.
Golf umbrellas can be produced as custom promotional umbrellas, and are available in varieties such as the number of folds, the canopy structure, the canopy shape, opening system, material, and shape of the handle. An additional feature for the golf umbrellas would be the presence of a fiberglass drum to make them lighter to carry and resistant to lightning. Also, they are water-proof and heat-resistant.
Golf umbrellas have large print sizes that make them noticeable from far away and are great for marketing at a sporting event, where there is a large gathering. It can be carried about by those present at the event, making your brand and logo seen by many people at different times and various locations. Whenever they carry it to a crowded place, your brand's visibility and exposure are multiplied.
Furthermore, the benefits of the Golf umbrellas would be their diverse use that can serve unique purposes and recreational activities such as camping, going to the beach. It is popularly used at hotels, clubs, villas, lake houses, cabins, racing centers, beaches. It is wind-resistant, water-resistant, and offers UV protection, making it one of the best umbrellas for individuals and families.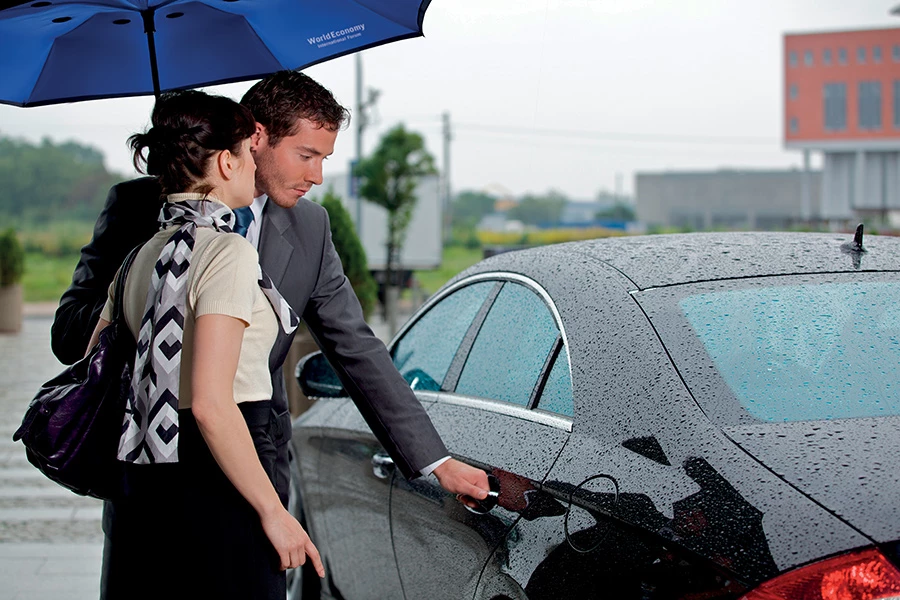 As mentioned earlier, it can protect you from unfavorable weather conditions such as the rain while making sure to keep your belongings dry too. Golf umbrellas are made from a water-proof material, making them a practical household item for the rainy season. Thus, the golf umbrella is your best bet to keep you and your luggage dry, and it is also big enough to accommodate one or two more persons.
Also, the Golf umbrella offers UV protection to its users due to its unique material. The canopy is thick and wide enough, providing adequate shade to protect you from the sun at the beach or your holiday visit, especially if you are sensitive to heat or UV rays.
Furthermore, the Golf umbrella is widely used by photographers during a photoshoot. Colored golf umbrellas such as white, black, and gold help to manage flash and control the lightning, producing better aesthetics without compromising the picture quality. The choice of the color produces different effects such as spreading flash, thus making the lighting softer, adding a warmer or cool color, and adjusting the contrast to the photographs.
Therefore, if your company wants to invest in promotional promo umbrellas, make sure you select umbrellas that are of good model/materials and avoid inferior products that would dwindle your credibility and brand image. You should purchase high-quality budget promotional umbrellas, to avoid costly mistakes such as your recipients making complaints about the gifts, and sharing their grievances on social media.

How to make your own promotional umbrella?
It is important to consider your target audience when making your budget promotional umbrellas. The umbrellas should be appealing to them, to enable your recipients to use them more frequently. This would then increase your reach, awareness, and conversions.
You can make your budget promotional custom-made umbrellas by manufacturing and/or customizing them from promotional companies that give you options to determine the sizes, colors, materials, handles, models, designs, and opening mechanisms of your umbrellas. Also, you can choose the type of print you want, a tasteful single panel print on the umbrella, which is the minimalist approach, or a full dye-sublimation printed umbrella.
The choices allow for creative possibilities and varieties. The handle material might be plastic, EVA, wood, or rubber, the handle shape can be straight or hooked, and the ribs can be either metal or fiberglass. The umbrella can be made out of pongee or polyester material, the shaft can be metal, fiberglass, or wooden, while the opening mechanism can be manual or automatic.
Furthermore, it's helpful if your corporate promotional umbrellas do not resonate only with your target audience but with your brand too. Make sure to include your company's attributes such as the color, logo, or message. A good tip would be to represent your brand in a creative and unique style to stand out more and earn more curiosity and interest.
In summary, this article would have shared useful tips on why promotional branded umbrellas are walking billboards and one of the powerful promotional merchandises that can achieve impactful marketing objects, though they are frequently overlooked.
Therefore, your brand, business, or company should not hesitate to include promotional umbrellas as one of the corporate gifts to offer to your clients and customers because they would bring in surprisingly great returns in the long run.

Want to learn about even more effective promotional gifts? We suggest you read our blog The Reasons Why Everyone Love Promotional Towels or 5 reasons why your company need promotional backpacks.