As we have pointed out many times, usability is one of the main components of an awesome promotional gift. This holds true especially for promotional T-shirts, one of the most popular items in a wide range of gifts.
Surely you remember that old t shirt you got, which completely changed shape and lost color after just a few washes. That t-shirt didn't achieve the desired result, it may have even hurt the image of the company.
That's why it's important for you to recognise which t-shirt is quality made and which one is not. We provided some pointers, which will help you choose the right shirt for your promotional campaigns.
The materials
In most cases, 100% cotton is the way to go. It's a natural material, that's comfortable to wear, easy to wash and maintain. But, not all cottons are equal, so read on.
Do not overlook the weight of the material
First we have the weight of the shirt, marked by GSM (grams per square metre). It essentially tells us the density of the material used in a square meter. So, what is the ideal density?
Our advice is between 150GSM and 180GSM. Anything less is too thin and will end up with a much shorter life span and possibly change shape during washing.
On the other hand, anything more than 180GSM will keep you sweating on those hot days and make the T-shirt uncomfortable to wear. As the density goes up, so does the price, this is why we recommend 150-155GSM T-shirts for mass promotional events and 160-180 GSM T-shirts for workwear or corporate wear and more targeted giveaways.
160GSM is also the minimum density of T-shirts for embroidery. Lastly, we need to mention that coloring the T-shirt also adds some weight, which usually makes white T-shirts a bit lighter than colored ones.
Density however, is not everything there is. We are sure everyone noticed some T-shirts are softer on the skin than others. This difference is the direct result of the process of manufacturing cotton fibers.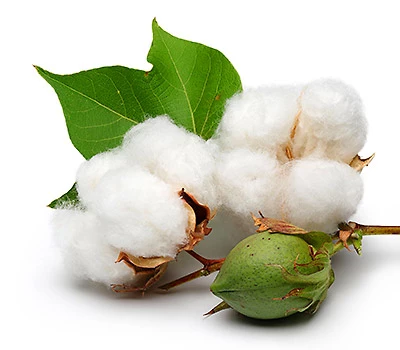 Different types of cotton
Regular cotton is made from soft vegetable fiber, obtained from the seedpod of the cotton plant, that is made into strands of fiber. These strands of cotton fiber are twisted together to make yarn that is then woven together to make a section of material. This is the type of cotton you would normally get when you see a piece of apparel that says something like 100% cotton or 60% cotton / 40% polyester.
A slightly different process is used to create Ring-spun cotton. You start with the same cotton fiber strands. But in the Ring-spun process the yarn is made by continuously twisting and thinning the strands making a very fine rope of cotton fibers. The twisting makes the short hairs of cotton stand out, resulting in a stronger yarn with a significantly softer hand.
The number of times you twist the fiber determines how soft it is. In many cases you will see something described as 30 Singles Ring-spun. This is a term used to indicate the diameter of a yarn. The smaller the number, the thicker the yarn. The higher the number, the thinner the yarn and the softer because it has been twisted more times.
Ring-spun cotton T-shirts are usually lighter than heavy cotton t-shirts, but are considerably more durable and softer, also making them more comfortable to wear. In our experience the print quality is better on those premium cotton t-shirts and they also have a much longer life span. They usually have a higher price, but the quality outweighs the difference in price.
Advanced "pre-shrink" technology prevents shrinkage of T-shirts
The shrinking of cotton fibers is a normal occurence. It used to hold true, that you need to buy a size larger shirt, because it will shrink to the right dimensions after the first wash. Those days are definitely over, since the »pre-shrink« technology termically pre-treats the materials and reduces shrinking to a minimum. The shrinking is still there, it is just barely noticeable. This is, if you wash and dry your T-shirt at the right temperature and settings, usually indicated on the inside of the shirt itself.
Artificial materials are also becoming more comfortable and high quality
At start we said cotton is the way to go with promotional T-shirts, but we have to admit, synthetic materials have become very comfortable to wear. Sports t-shirts are made mostly from quickdry polyester materials, with additives ranging from polyamides and elasthane. Those t-shirts are very durable and have a long life span, while not sticking on your skin when sweating. And they are getting more and more affordable, especially with sublimation dye printing technique, which offers multi-color prints at a very affordable price.
T-shirts made out of organic cotton
A responsible attitude towards nature is also reflected in the production of promotional T-shirts. That is why the vast majority of manufacturers also have T-shirts made from ECO organic cotton in their sales program.

In fact, the quality of the material does not differ much from the classic, but it's production and manufacturing is very important. ECO organic cotton is grown by methods and with materials that have very little or no impact on the environment.
The process of organic cotton production restores and maintains soil fertility, reduces the use of toxic and persistent pesticides and synthetic fertilizers, and thus maintains biologically diverse agriculture. A very important fact is also the ban on the use of genetically modified seeds for organic cotton production.
Independent certification organizations confirm that organic producers use only methods and materials permitted in organic production.
One such certified T-shirt is the T-SHIRT ROLY BASSET, which we offer in men's and women's cuts.
And the most important for last! Before buying any t-shirts, make sure that they were manufactured in accordance to OEKO-TEX® Standard 100. This standard guarantees that the material used in t-shirts does not contain any substances that may harm your health.
So, what's a good T-shirt?
A good promotional t-shirt should have a
4 layered neck collar,
reinforced and covered seams in neck and shoulders,
compact finishing on sleeves and
side seam.
That's the theory, at least. In practice, the quality is usually dictated by the budget of the promotional campaign.
Speaking from experience, we can assure you, that most promotional T-shirts in circulation, does not have 4 layered collar, they mostly have a collar made out of 2 layers. The seams are also mostly not covered, and side seam is replaced by tubular fabric. Budgets are usually limited and so you have to make a compromise, to cover all the needs the promotional campaign has.
Working closely with your dealer is thus of utmost importance. At our company we make sure, to come up with an awesome solution together and maximize the gain for the customer.
T-shirts with detachable label
Lately, the trend is to print a customized label, instead of the generic one, provided by the manufacturers. The label usually contains the brand of the customer, size of the shirt and maintenance instructions. This gives the T-shirt a certain uniqueness and makes the branding even more powerful. The customized labels are usually dirt cheap, so you may want to take advantage of it. On our site, the T-shirts are marked, where the label is removable.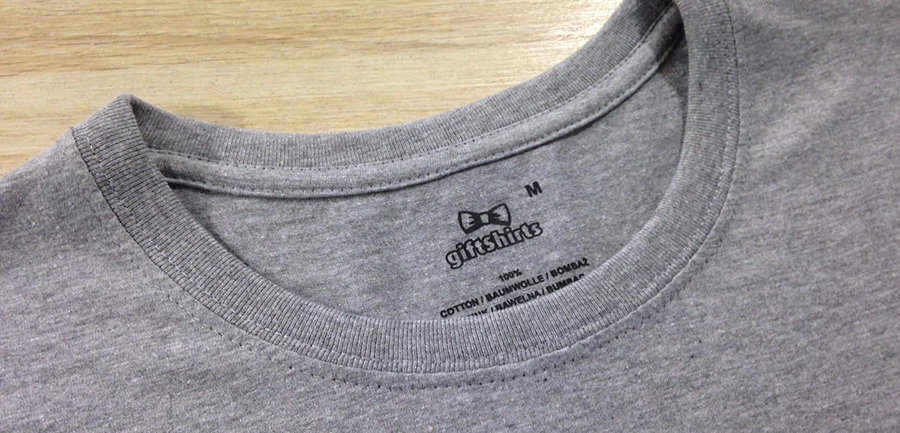 Sizes dilemma
There is chaos in this part of the T-shirt world, as the sizes mostly depend on the manufacturers. There are differences between European manufacturers, and there is even more mayhem when factoring in manufacturers from other parts of the world.
Mostly the sizes are S, M, L, XL and XXL, ranging from smallest to biggest. But as we said, the actual size of the model largely depends on the manufacturer. Our advice is to request samples, try them on or at least look at them closely, and then decide. This will also help you to better asses the quality of the shirts. Generally speaking, manufacturers from the USA have larger models than European ones.

Our proposals
Our 30-year long experience in the sales, printing and embroidery of promotional t shirts gives us at least some competence to make some proposals. We can guarantee that the recipients of those shirts will react positively to them. In the men's department, we have Braco T-Shirt, Bali T-Shirt in the women department and Montecarlo T-Shirt, if you are looking for a sports T shirt.
There are a lot of good t shirts on the market and armed with information from this blog post, you will surely be able to recognise them. Impress your customers, partners and others, with quality T-shirts.
Still not sure, if promotional t shirts are such a good idea? Read our blog here, and find out.