Gifting has become much more than a mere exchange of objects in the 21st century. In both the business and private spheres, gifting has a special meaning. And it is time that you, if not already, start to be aware of it.
A carefully selected business gift given to our business partner or a loyal employee at the right time makes a strong impression on them. With it, we always let them know that they are crucial to us, and at the same time, with the gift that the recipients will like to use every day in their activities, we always remind them of the special relationship we have with them.
In times of exceptional events, when our mutual contacts are curtailed, in addition to the classic meaning, business gifts also mean overcoming the lack of personal connections. Because we all know how powerless we often feel in these times, it is all the more crucial that we know how to cheer each other up with something.
The importance of business gifts.
Business gifts are therefore intended to strengthen the bond between our company and business partners, and at the same time serve as an excellent advertisement, which in some cases is even more effective and cheaper than any classic advertising. In 2017, promotional products were ranked first as the most successful form of advertising. Their popularity at this point is anchored profoundly more on the throne of the winner. Mainly with the increase in supply and the latest trends. If the gifts are chosen correctly and given well-timed, it can mean strengthening the bonds between partners. And consequently the growth of our business. Of course, for much less money.
How to choose the right business gift?
This question is the principal question faced by every company that opts for this type of gifting. Understandably, you don't know which one to choose with a vast selection of business gifts.
How could you, when the choice is so great.
Of course, we can help you with that. However, it is a good idea to make a shortlist of your own and at least roughly decide what you would like to give to your gift recipients. Here are some tips to help you avoid using google with the phrase "most popular business gifts" so you don't repeat after others but give something individual.
Decide what the goal of the gift is.
Instead of spending hours worrying about what to give, approach the choice of business gifts in a different, utterly strategic way. First, determine what the goal of your gifting is. Do you want to strengthen ties with your business partners? Do you want to reward your best employees? Do you wish to thank someone for a successful long-term collaboration? Do you want to gain new customers? Such questions are crucial because you can only get to the correct answer by keeping the ultimate goal in mind.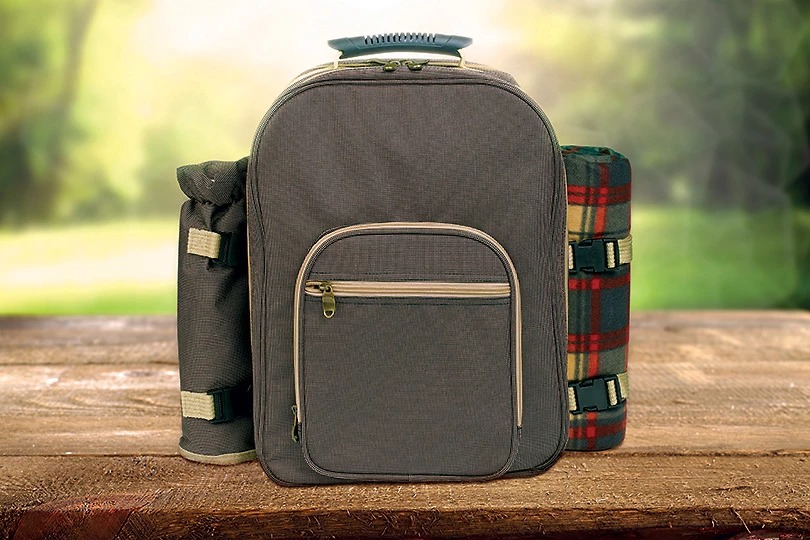 For a maxi effect, do a mini-survey.
If you have ever received a gift yourself and wondered, "Why the hell did I get this?" then you know that you have not received a gift that was carefully selected. Because you don't want those you are gifting to feel the way you did back then, explore their interests.
If these are large groups of people, then research what they have in common. Maybe if they live in a similar place, you can associate the gift with that. Perhaps they have in common what they do in business or something they do in private. Maybe they're lovers of dogs, cats, or trips. Explore what they love and develop an idea in that direction.
If these are smaller groups of people, you have a much easier task. You can quickly figure out what would cheer them up. Even though it is not worthwhile for you to give everyone something that would be chosen specifically for them, you can consider the possibility of the same gifts that you personalize for each gift recipient.
Ask yourself the right questions?
When choosing business gifts, it is crucial to ask yourself the right questions. The TOP 3 are definitely:
Do you want the gift to be practical? Keep in mind that useless presents usually land in the trash and thus do not serve the purpose for which they should. They don't cheer the gift recipient, and they don't do you any good publicity.
Do you want the gift to be the one after which you will be remembered? People remember a gift, which either cheers them up or helps them with some daily task. , One that is so different from others that they are left speechless is also remembered.
Will the gift be such that the gift recipient will see it more than once? Always keep in mind that the goal of a business gift is that a loyal customer, business partner, or employee has you in their thoughts at all times. So, a business or promotional gift needs to be functional. Just as in love between partners, the rule "Far from the eyes, far from the heart" applies in business.
If you give something that the gift recipient will throw away or put in the back of the closet, you have not done yourself a favour with the gift, but only an unnecessary expense. So give something that the recipient of the present will have in front of their eyes at all times. And something that they will proudly carry around the world. If the product is custom made and even personalized, praise will not escape you.
''The beautiful gift that bears my name tells me that the one who gave me the gift really put in the effort for me. I like to show such a gift to my friends and praise the one who gave it to me." (Mateja B.)
One of the gifts that have delighted every recipient so far is a personalized water bottle. It is practical, carefully selected, has your logo and the person's name to whom the bottle is given (which enriches it with a personal note). The recipients always carry it with them, and in this way, they make an advertisement for you. Of course, the range of items that can be personalized is much more sizable. Find out more about personalized gifts in our Personalized gifts or how to gift soulfully with a feeling blog.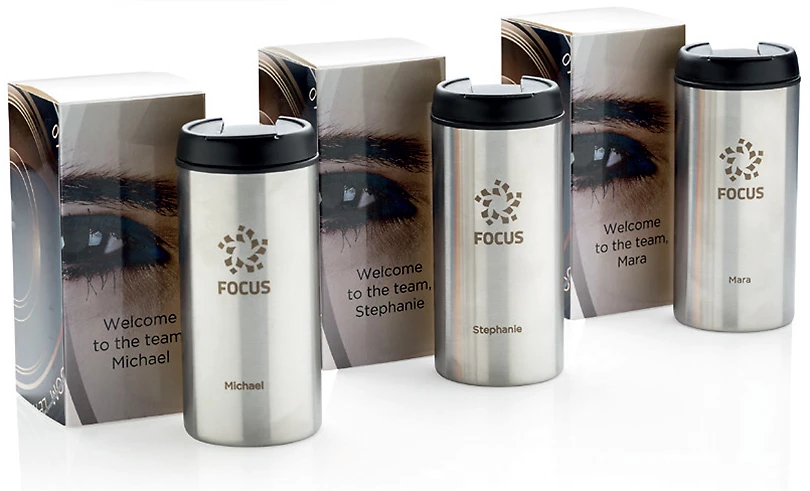 When to give a gift and how?
Did you know that in China, it was once considered that a carefully chosen business gift meant the difference between a deal or a termination of collaboration? Now customs have changed a bit, and the business culture even forbids giving gifts before a deal is made, as in this way it can be concluded that it is a bribe. Another fascinating thing about their business gift-giving habit is that what we want to convey to the gift recipient is more important than the gift itself.
The Japanese also have a peculiar custom regarding business gifting. A gift-giving ritual is more crucial than a gift itself.It is also principal the present is carefully selected, modest, wrapped and discreetly hidden in the bag. It must be handed over alone and only at the end of the visit.
If you go to a meeting in Russia and think that giving vodka to a Russian partner who loves vodka will make a good impression, you are wrong. In Russia, it is terribly insulting to gift their favourite drink.
Swedes also have their own way of choosing and handing over business gifts. Gifts in Sweden are handed over at the end of the concluded business, and it is necessary to wait for the present to be handed over first by the host.
Are we so strict here too? Do we have such habits? Unfortunately (or fortunately) not.
However, you must give your business partners, customers and employees a beautiful and practical gift that you have carefully chosen.

"I like to get a gift when I don't expect it." (V.H.)

Regarding the time of gifting, we suggest that you are different from the surroundings in this case. In Slovenia, we have the habit of giving gifts at the end of the year, and this custom also applies to business partners. Our tax legislation, which recognizes benefits for business gifts, also speaks in favour of this kind of gift.
But …Despite the beautiful tradition, there is a gift trap during this holiday season. If you give a gift at the end of the year, it can happen that it will get lost among all the other presents. With that, you will not achieve the desired effect. Therefore, we suggest that you give a business gift when the recipients do not expect it. Pay attention to what people are telling you throughout the year. This way, you will know when they have achieved something crucial and which dates mean a lot. Maybe choose a date on which they have an unpleasant memory for the gift. And become a reason they will laugh that day.
Our tip what to give?
The days when your customers were delighted with a plastic ballpoint pen with a printed two-colour and flashy logo and a phone number are long gone. Even the recipients of promotional gifts have become demanding. And this is normal as all stores are enticing us with different products, websites are full of various offers and products, and we cannot avoid them even when we pay bills at the post office. In fact, it is up to you to be original when gifting business gifts.
Therefore, we suggest that if you want to make a great impression on your customers and business partners and convince them that you are different and better than others in the market, you also express this with your business gifts. Also, the presents you give to your employees on various occasions need to be carefully selected so that your employees will be happy to use them and strengthen the emotional bond they have with your company.
''If I received such a gift from my employer, I would have the feeling that I am not just a payroll number for him.'' (Nataša S.)
As befits this time, we have also kept pace with the times and updated our already diverse business and promotional gifts. One of the novelties in recent years is a custom-made business or promotional gifts, we call TailorMADE promotional gifts, which are becoming more popular day by day. In just a few steps and in a relatively short time, we can create a unique product for you in our factories. It will be made to your measurements with high-quality materials. These may be recycled or from renewable sources. In the end, the product is branded and packaged. In other words – we make gifts precisely according to your proposal. Find out more about TailorMADE promotional gifts in our TailorMADE custom promotional gifts blog.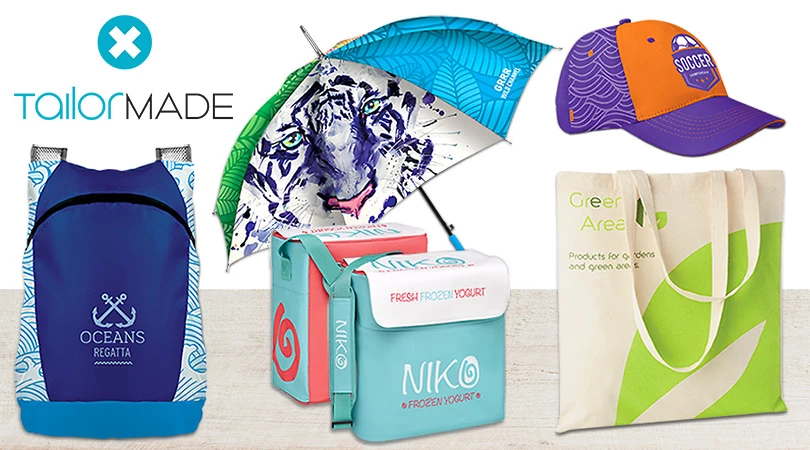 Do you make homemade pasta? Give your business partners TailorMADE aprons. Do you know if your gift receivers are strong opponents of using plastic bags? Give them a TailorMADE cotton bag, a reusable fruit or vegetable bag. All these items are made in the factory, from start to finish. The possibilities of branding or the colours of the promotional gift itself are much greater than with already made items.
With the fight against surplus plastic, our range of bags and purses intended for shopping has also substantially increased and expanded. You can choose between different models and materials, and you can equip them with custom printing. Custom print bags are environmentally friendly and have multiple benefits for your business, as they are a great advertisement if you design them well.
The offer of custom-made gifts is much bigger than the classic you are used to. You can choose handbags, backpacks, waterproof bags, bandanas, sports caps, winter caps, socks with your unique designs, umbrellas with various prints, towels, flip flops, bracelets with logos, ribbons and key chains, special notebooks, diaries, etc. Your socks can be made of different natural materials. Your umbrellas should stand out with modern designs that include high-resolution photos since only the logo print is a thing of the past. The full range of TailorMADE items can be found at the link.
And for the conclusion!
As we have already mentioned, good thinking and planning before deciding what kind of business or promotional gifts you will give are definitely helpful. However, you will be successful if you have usability in mind, and your goal is for the recipient to use the present at work and free time. You will find more hints and advice in the blog named Business Gifts - what you need to know about them and about gifting.