"Water-saving eco-friendly promotional products are one of the current sustainable promotional investments for most companies, to gain admirable brand recognition in an eco-conscious world."
Greenwashing is a distasteful act that is frowned upon generally. It is an act of deception, defined by the act of passing across untrue, misleading, or false information and impression about a company's eco-friendly products. Today, it is a common practice seen today by the brand that wants to earn a good reputation in an eco-conscious world. These companies share falsified, unconfirmed or exaggerated claims to deceive their potential leads, customers, clients, and the general public.
Sadly, though they might have good intentions, the execution is usually bad and might have deleterious consequences in the long run. To avoid these consequences while maintaining a positive brand image, you are advised to go for eco-friendly products that are true and verifiable. Hence, kindly read the topic; "The Impact Collection; The Best Water-Saving Eco-friendly Promotional Products," shared in this article below to know be guided on the best investments for your company:
Water-Saving Eco-Friendly Promotional Products
The Impact Collection: Unique and Best Water Saving Investment.
Aware Technology and the Role it Plays in Water Sustainability.
Benefits of the Impact Collection for your Company.


Water-Saving Eco-Friendly Promotional Products.
Currently, water sustainability is one of the current trends being encouraged by the government, companies, brands, businesses, and individuals. This trend arose as a need to mitigate the deleterious effects of global warming that has led to a current ecological crisis. Activities such as pollution, and deforestation has led to results such as drought, heatwave, and climate change. In return, this has negatively affected the ecological integrity and threatened the earth's life support system. As a response to this threat arose a demand for eco friendly promotional products by companies, particularly water-saving products.
Water-saving eco-friendly promotional products are promotional products made from sustainable materials or renewable resources making them "save water" by reducing environmental impact. They are usually used by companies to achieve branding and advertising goals. They are earth-friendly sustainable products that are branded with a company's logo, name, color, slogan, or design. Examples are sustainable fabrics, electronic products, upcycled socks, recycled shopping bags, etc.
These products are usually made from materials such as cotton, jute, wool, bamboo, RPET, and other recyclable, upcycled, or reusable materials to reduce pollution, mostly caused by plastic and chemicals in water sources such as rivers, streams, lakes, seas, and oceans. In return, this upholds the quality and quantity of accessible water in the ecosystem. Overall, these would produce favorable results to gradually alleviate "water stress" making sure that the current and future generations have access to safe, clean, and sufficient water.

The Impact Collection: Unique and Best Water Saving Investment.
As a company that wants to contribute your quota to sustainability, one of the best unique and best water-saving investments to successfully execute your promotional tactics. The impact collection is a collection of water-saving sustainable promotional products that would boost your environmental, social, and ethical compliance. They share the message that you are concerned about the environment and the future by executing strategic actions towards waste reduction and water sustainability. More importantly, they help you avoid greenwashing.
The impact collection is designed to back up your sustainability claims through verification and validation. It is a collection of promotional items embedded with a tracer technology called "AWARE" that can be tested via blockchain technology, to verify if the products are truly sustainable or not. This way, there is a confirmation that you have evidence in your claims which gives you a confidence boost. Overall, it is great for more brand awareness and can boost brand image. Ultimately this would boost product perception and product purchase, increasing profits in the long run.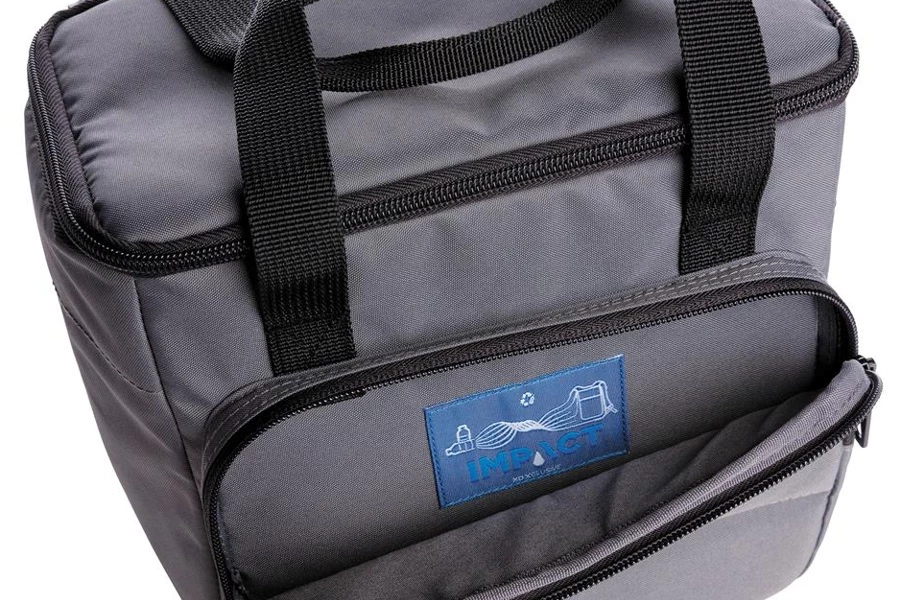 The impact products and sustainable fabrics include a wide range of branded items produced with AWARE technology such as recycled canvas bags, recycled shopping bags, RPET cooler bags, recycled laptop bags, weekend backpacks, recycled business backpacks, RPET duffel bags, antitheft backpacks, RPET outdoors backpacks, casual backpacks, upcycled socks, recycled cotton aprons, recycled napkins, RPET blankets, bamboo umbrellas, cotton tote bags, recycled cotton drawstring backpacks, cotton caps, RPET drawstring backpacks, RPET foldable shopper, RPET tote bags, water bottles, recycled stainless bottles, bamboo notebooks, RPET beanies, bamboo water bottles, etc.

Aware Technology and the Role it Plays in Water Sustainability.
Water sustainability aims to protect the environment. This is important because what affects the environment would invariably affect man's health. Thus, a water crisis is regarded as a health crisis. Pollution and degrading activities affect the quality of life, both in water and on land. Lack of adequate quality and safe water leads to unsanitary and unhygienic conditions, which brings the onset of communicable diseases and non-communicable diseases and in the long run, a pandemic and death. Sadly, all population is affected with mostly marginalized communities and vulnerable population being the major victims.
Investing in these AWARE sustainable fabrics and other sustainable products would validate your sustainability claims, upholding your direct contributions to promoting eco-friendly actions. The impact collection is unique because it integrates sustainability from the initial product development stage to later stages of product utilization. This is made possible with the "AWARE" tracer technology, a virtual component that is embedded in these promotional products that can test and verify sustainability through tracer technology. Hence, your company can validate your sustainability claims with 100% traceable recycled and sustainable branded products such as sustainable fabrics and RPET.

Transparency is a core value needed to maintain a positive brand impression, and the impact of sustainable products allows you to showcase this. Hence, whenever people see the AWARE tag on a product, they feel connected with the impression that the bought item or free branded gift is from a conscious and responsible brand. This can't be copied because the tags are exclusive to products that have been detected to have the AWARE tracer content and this can be matched with registration on blockchain technology for verification. Convincingly, a profound investment in AWARE sustainable products will create a brighter and greener future for man.

Benefits of the Impact Collection for your Company.
Statistically, the impact collection uses 99% less water in its production and saves 9800 liters of water per 1 kilo of its recycled products. This way, millions of plastics are saved from polluting water sources while providing rural communities with access to safe, clean drinking water. Furthermore, 2⁒ of the proceeds of each impact product would be donated to water.org- an organization dedicated to encouraging water sus and this way, you can also donate to global health.
Verification of your sustainability would make you avoid the negative effects associated with greenwashing such as tarnished brand image, loss of customers and clients, lawsuits, and shutdown. Sustainable fabrics can help you gain brand visibility via on-the-go exposure due to the practical and portable nature of the branded material. Also, they are great for boosting social media engagements, kickstarting social media conversations, and amplifying campaigns.
Furthermore, they are great for boosting brand loyalty amongst clients, customers, and employees. They share the message that you care about their wellbeing and welfare and you are executing strategic actions to make them live a better life. These branded items are usually well received and utilized due to their practical and stylish nature. Thus, they are highly useful as corporate gifts to establish an emotional connection and leave a good impression.

In addition, they are a cost-effective investment and are proven to be successful as promotional items in large events such as anniversaries, tradeshows, and exhibitions and are good as corporate gifts for events such as meetings, conferences, seminars, etc. Wherever they are seen when worn, carried, or being used, they act as a walking billboard, sharing your brand message while showcasing your social and environmental responsibility in an ever-expanding reach.
In conclusion, this article would have shared insights on reasons why water sustainability is the new favorable trend in an eco-conscious world and why the impact collection is the best water-saving eco-friendly promotional product and thus, recommended as a must-have rewarding investment for brands, businesses, and companies today.