Summer is finally here, and with it, sunny days, holidays and an atmosphere of relaxation and fun. It's the perfect time to recharge your batteries, enjoy the outdoors and create unforgettable memories. For those warm summer days, we've put together a selection of the best promotional items to add a touch of style and functionality to your summer activities. Whether you have a passion for nature, enjoy unwinding and seeking relaxation, or are an adventurous soul eager to explore new experiences, you'll discover all the essentials for a fantastic summer.

Why offer seasonal promotional products
Offering seasonal business and promotional gifts has several advantages. One of the most important is to tap into the enthusiasm and commitment of consumers to the current season. This creates a stronger bond between the brand and the customers, reinforces the relevance of the advertising campaign and can encourage purchase or brand commitment. In addition, seasonal promotional products often have a practical use value during that specific period, which increases their perceived value and the likelihood of long-term use.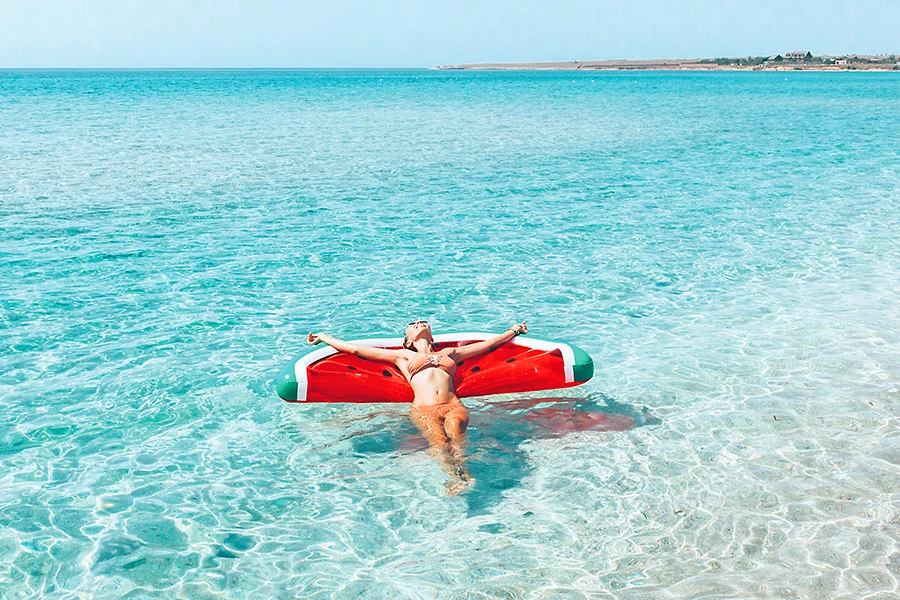 Why are promotional beach gifts important for your business?
Promotional beach gifts are important for your business for several effective reasons:
Increase your brand awareness: promotional products such as flip-flops, beach towels or umbrellas with your company logo or name are often used during summer activities. This increases your brand awareness among a wider audience, especially at beaches, swimming pools and spas.
Improving brand image: offering your customers or potential customers quality promotional items for the beach improves the positive image of your company. You show that you care about their comfort and satisfaction in moments of relaxation.
Long-lasting advertising: In contrast to other forms of fleeting advertising, beach promotional items have a longer lifespan. For example, beach towels can be used for several summer seasons, giving your brand long-lasting exposure. This means that your advertising message is spread over a longer period of time.
Word-of-mouth effect: if people use attractive and good-quality beach items, others often notice them and take an interest in where they come from. This sparks conversations and creates a positive word-of-mouth effect about your business. Personal recommendations are often very influential and promotional or business beach gifts can facilitate this form of promotion.
Promotional beach items are essential for your business, not only to reinforce your brand image, but also to help you stand out from the competition. These benefits can help your business grow and attract new customers.

How to choose the ideal beach promotional material for your brand?
When choosing summer promotional material for your brand, you need to consider several factors to ensure that the choice is the right one for your target audience and marketing objectives.
First of all, you need to be clear about what you want to achieve with the promotional material. Do you want to increase brand awareness, generate sales, retain existing customers or attract new ones? This explanation will help you choose.
Secondly, you need to know your target group. Know the interests, needs and preferences of your target group. For example, if you are targeting families, you may want to consider promotional products suitable for children, such as buckets and beach toys. Thirdly, one of the most important points is to determine the budget you have available for beach products. There is a wide range of products available at different prices. Find a balance between quality, usability and price to get the best balance.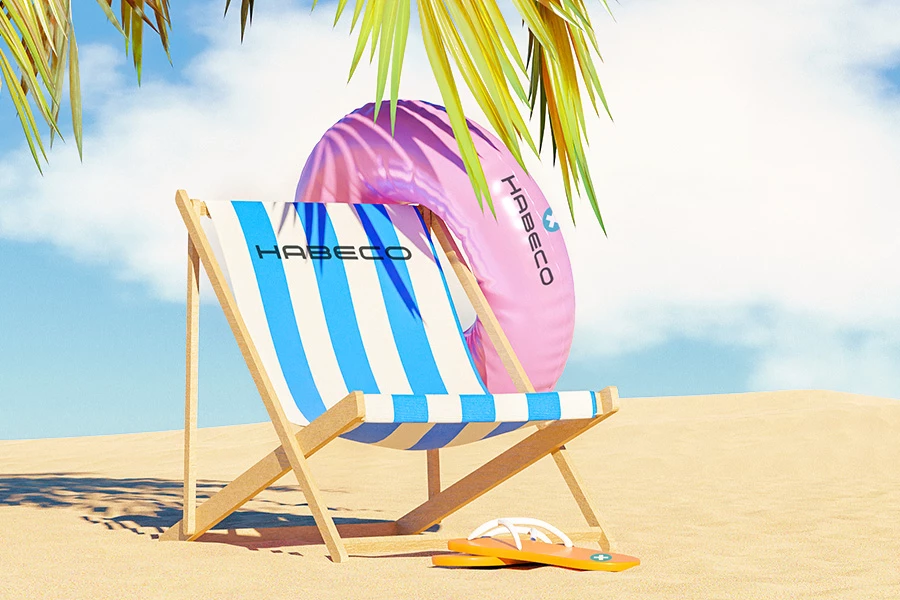 It is also a good idea to choose promotional material that is really useful for the beach. Items such as beach towels, hats, sunglasses, water bottles are very popular and useful. You should also make sure that your promotional gifts are of good quality and durable, so that you can prolong their use and increase your brand awareness.
A very important factor that should not be overlooked is the supplier. Look for reliable and reputable suppliers for the production and supply of promotional gifts. Check reviews and comments from previous customers to be sure of the quality of the product and service.
By following these steps, you will be able to choose the ideal promotional or corporate gift for your company or brand that will increase your visibility, attract the attention of potential customers and help you achieve your marketing objectives.

What promotional items you can give away this summer
In summer, there are many promotional items available to give away to promote your brand, event or company. Here are some ideas:

Beach bags: the ideal promotional material for summer
Beach bags are a must-have accessory as they are the perfect promotional gift for summer. They are usually made of durable materials such as cotton, canvas or polyester. This ensures that the bag can be used for several summer seasons, ensuring constant recognition of your brand. Beach bags usually offer a large surface area for the imprinting of your brand, logo, slogan or advertising message.
They are versatile and can be used away from the beach. They are great for family outings, picnics or even as reusable shopping bags. When choosing beach bags as promotional items, make sure to choose attractive designs, bright colours and add your logo or message clearly and prominently.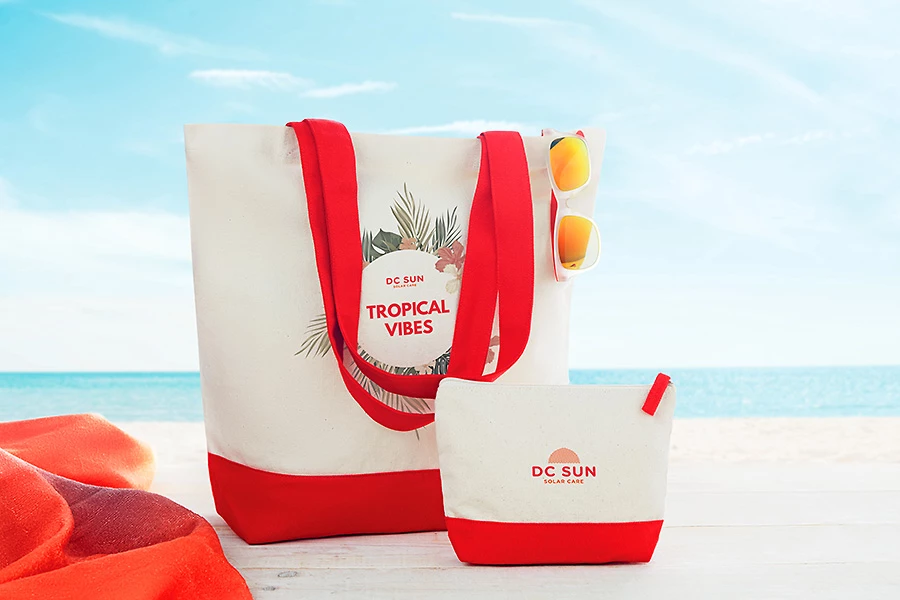 Promotional beach hats to protect you from the sun
Custom-fit hats serve as an exceptional approach to refreshing oneself at the beach. They provide protection from the sun while allowing you to show your unique style. They can be made from light and breathable materials to keep your head cool and in the shade. Custom hats can be decorated with patterns, logos or messages of your choice, making them a practical and fashionable accessory for days at the beach.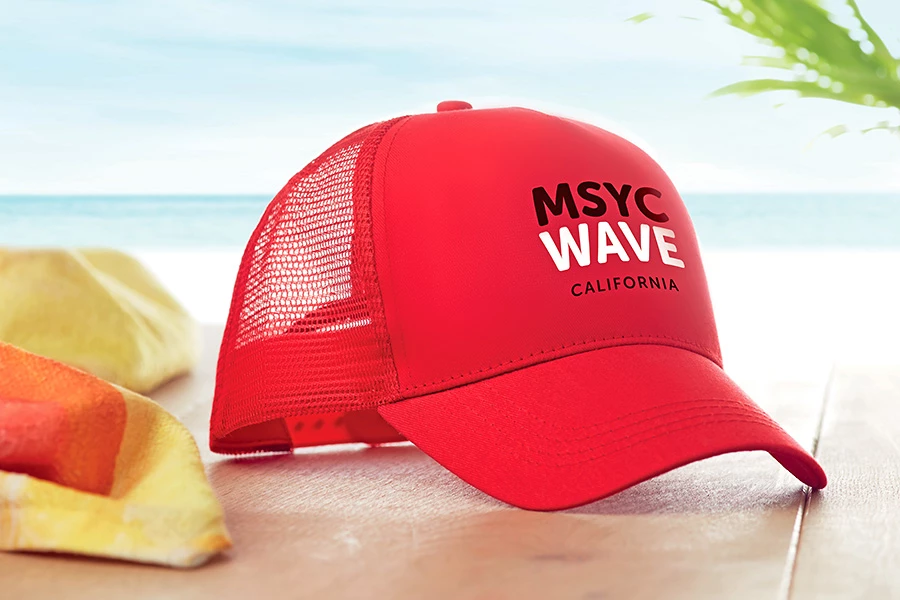 Beach towel: The perfect canvas for your brand
Beach towels are often used in sunny environments frequented by many people, such as beaches, swimming pools and seaside resorts. They are practical and functional items, which is why they appeal to consumers. This will expose your brand to a wide audience, ensuring maximum visibility. Beach towels have a large print area so you can effectively get your message across, add your logo or branding.
When designing a branded beach towel, make sure you choose colours and patterns that match your brand identity. Also use quality inks and durable printing techniques to make sure your branding on the towel lasts.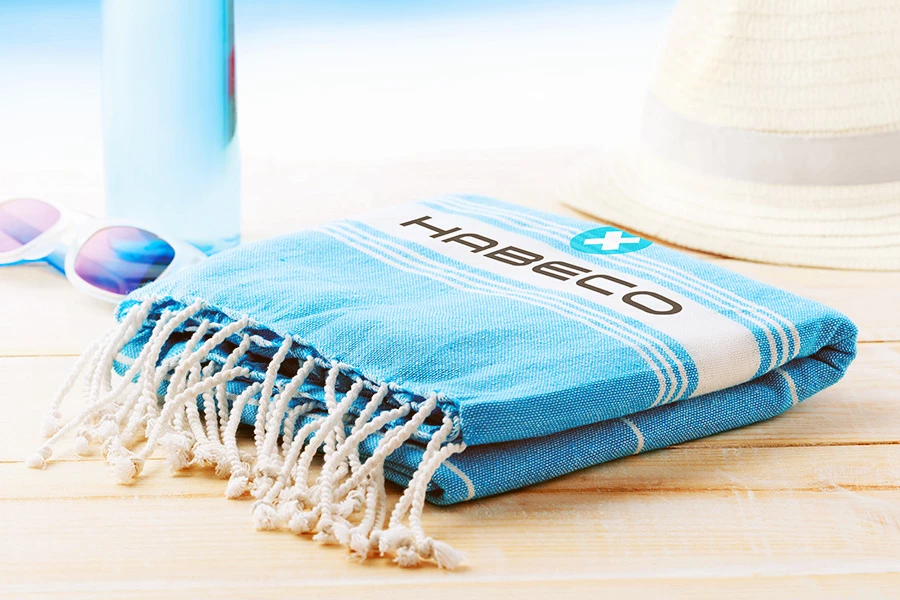 Drink in style with promotional beach bottles
Promotional beach bottles are a great way to drink in style during your summer activities. Whether you're relaxing on the warm sand or taking a dip in the ocean, these flexible bottles can add a touch of personality to your experience.
When customising your water bottle for the beach, choose bright colours like sunshine yellow because it evokes the summer atmosphere. Get creative and add fun messages, inspirational quotes or fun puns to printed or engraved bottles.
Choose a water bottle made of durable materials such as stainless steel or impact-resistant glass. These materials are durable and environmentally friendly.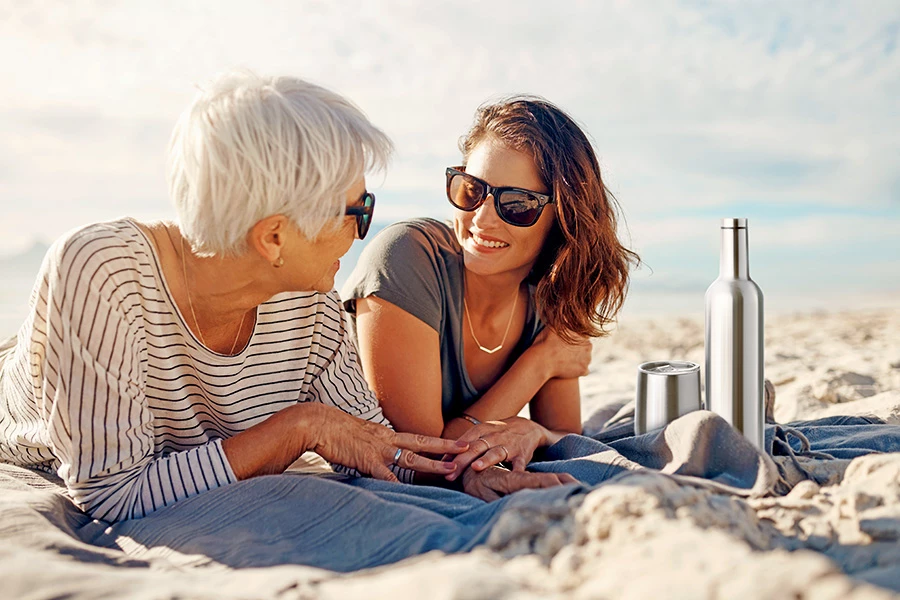 Sun cream: a practical and indispensable promotional product for the beach
Sun cream is a practical and indispensable promotional product for the beach. It protects the skin from the sun's harmful rays and reduces the risk of sunburn and long-term skin damage. By distributing promotional sunscreens, companies can promote their brand while encouraging responsible sun protection. It is a popular promotional product that customers appreciate because it combines utility with health awareness.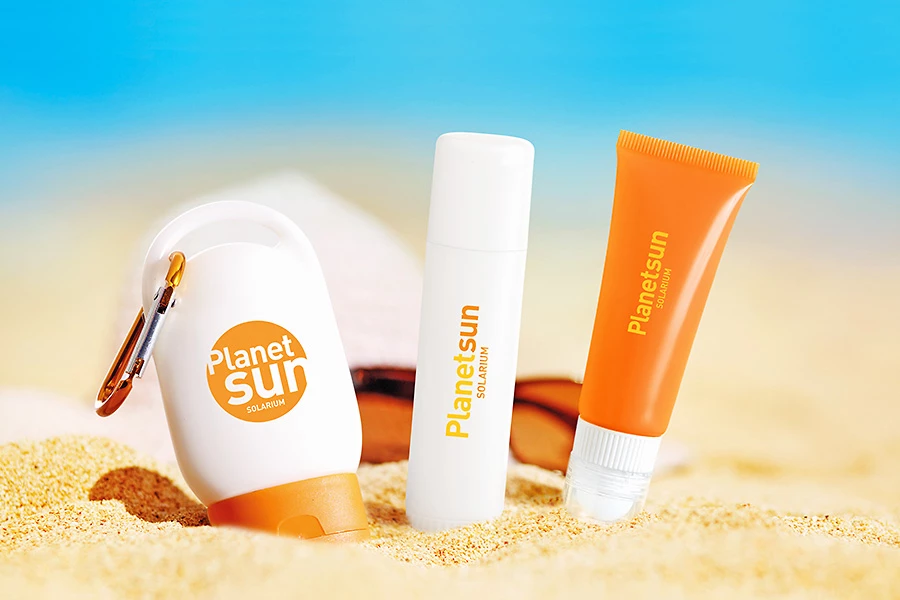 Fun in the sun: Promotional gifts for beach games and activities
Summer is finally here and it's time to get ready for sunny days at the beach! Whether you're on your own, with family or friends, our collection of beach games and activities is sure to keep you entertained and having a great time. From traditional racquetball to flying frisbees, volleyball and badminton, we've got everything you need for fun on the warm sand.
Keep your kids entertained for hours with our colourful and playful beach toys. From buckets and spades to sandcastle-building games, we have everything to spark their imagination and creativity. Our beach toys are safe and durable, so parents can have peace of mind.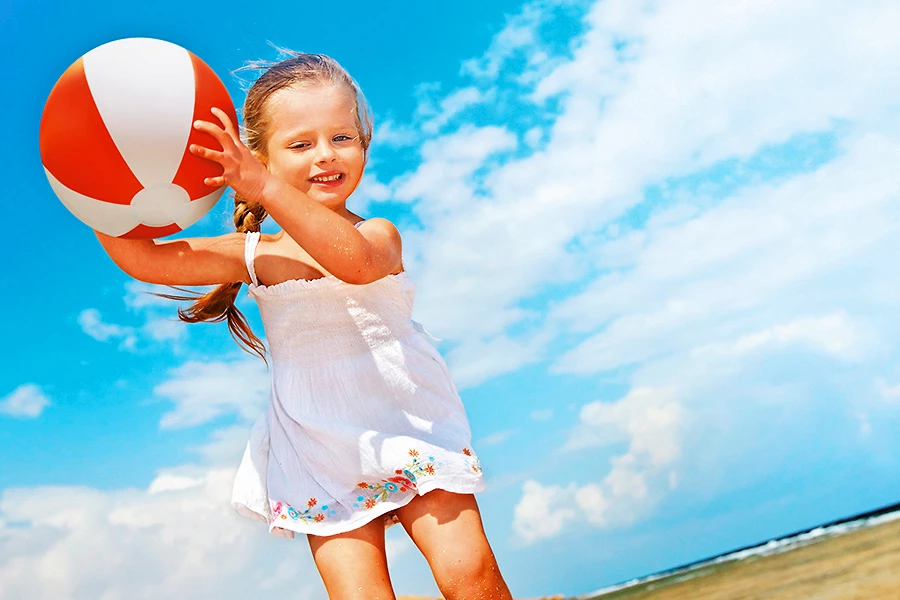 Promotional sunglasses: a stylish way to promote your business on the beach
Promotional sunglasses are the perfect choice for advertising your business on the beach. They are essential for protection from the sun's harmful rays, so promotional sunglasses show your customers that you care about their well-being, while promoting your brand at the same time.
They are a popular fashion accessory and people often look for unique and stylish designs. When customising sunglasses to promote your business, make sure you use your logo, colours and patterns to create a look that is consistent with your brand image.
Promotional sunglasses are a practical and attractive gift that people are likely to appreciate and use. Giving something useful and fashionable will reinforce the positive perception of your company.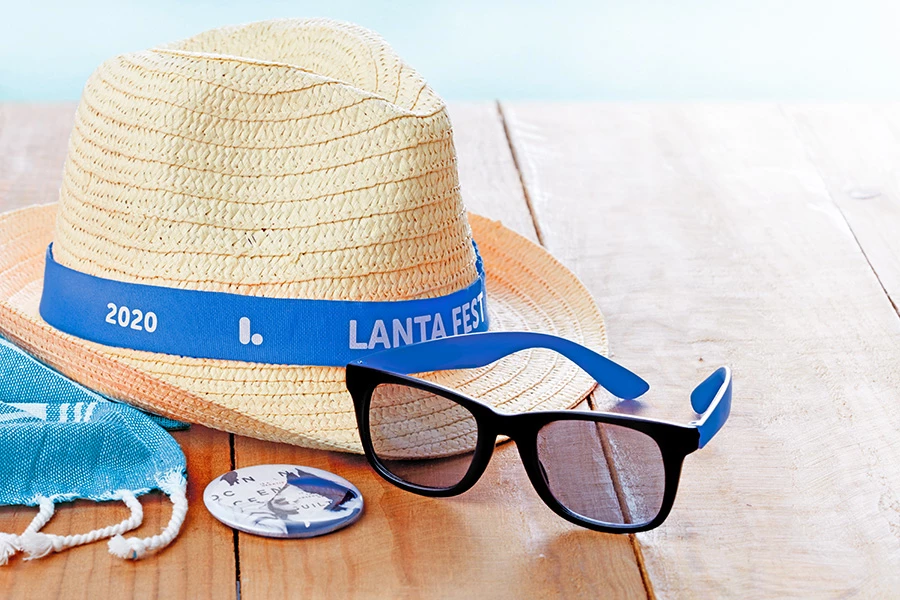 Practical and fashionable: promotional flip-flops for the beach
Promotional flip-flops are an extremely popular promotional gift for a visit to the beach. As well as providing comfort while walking on the sand, they also offer the opportunity to express personal style. There are many different qualities of flip flops, which vary according to the materials and layers used.
When it comes to branding your flip-flops, you have several options. You can print your logo or message on the sole, the strap or even emboss it on the underside of the sole. Embossing is particularly interesting as it leaves visible footprints as you walk on the sand, which is extremely effective in spreading your brand awareness.
In addition to practicality and comfort, promotional flip flops are also a great way to connect with your target audience. Beach-goers will appreciate comfortable and stylish flip-flops and will be proud to walk along the shore.


Beach chairs: the perfect corporate gift for your customers
Beach chairs are a comfortable place to sit and relax on sunny days at the beach, by the pool or even in the garden. Your customers will be able to enjoy moments of rest and recreation while representing your brand. Promotional beach loungers are usually made of durable, weather-resistant materials such as wood, aluminium or polyester. They are often foldable and lightweight, making them easy to carry.
Beach chairs are available in a variety of styles, colours and shapes. You can choose a chair that matches your brand aesthetic and add your logo prominently. You can also offer additional features such as cup holders to make the chair even more attractive to your customers.

How to distribute beach promotional items effectively
Handing out beach promotional items can be a great way to promote your brand to holidaymakers and beach-goers. Here are some ideas for effective distribution:
Beach fairs and events: attend fairs, festivals or other beach events where you can meet your target audience directly. Give promotional items to visitors to your stand, introduce your brand and encourage them to use it on the beach.
Public beaches: choose popular beaches where many holidaymakers meet and ask for permission to distribute promotional products on the spot.
Hotels and resorts: Work with hotels or resorts near the beaches. You can arrange to have your promotional items in the rooms or at reception for guests to use during their stay on the beach.
Collaborate with local brands: find local brands that complement your brands, such as swimwear or sun protection manufacturers, and offer to work with them to distribute your promotional products on a reciprocal basis.
Sponsoring sporting events: Support beach-related sporting events such as beach volleyball or surfing tournaments by offering your promotional products as prizes or distributing them to participants. This will increase your brand awareness among the athletes and spectators present.
When distributing promotional products, the practicality and usefulness of the products for the recipients should be taken into account. You should also make sure that your brand is well represented on the items and that you include information about your products or services to maximise the promotional impact.
Remember that promotional products also make great gifts for your employees. This will show your appreciation and build strong relationships.
So don't wait any longer! Grab the opportunity and get the promotional products that will brighten up your summer. Be ready for sunny days, active leisure and successful promotion of your business. Make this summer unforgettable!