Promotional polo shirts are a great way to advertise your company or brand. They are popular and versatile, which is why people love to wear them for a variety of occasions, from business meetings and sporting events to casual get-togethers. The first polo shirts were worn by British soldiers in the 19th century and were named after the game of polo, which originated in India.
Polo shirts are quite affordable, what make them a better choice than some other types of promotional gifts. When choosing promotional polo shirts, consider the material, size, colour and other factors that can affect comfort and appearance. Using promotional polo shirts can help you promote your business effectively and stimulate interest in your brand.
Here is our range of polo shirts, suitable as promotional gifts or as workwear.

Polo shirts as workwear
Polo shirts have also proven to be an excellent choice as workwear in a variety of professional environments. They are comfortable, practical and versatile, making them wearable for both men and women. They can also be stylish yet comfortable, making them suitable for formal wear in almost any profession.
A great example of the use of polo shirts as workwear is in the hospitality industry. They are suitable for chefs, waiters and other staff in the hospitality sector because they are comfortable, easy to maintain and look attractive. They can be easily combined with other items of workwear such as chef's caps, chef's trousers or jackets.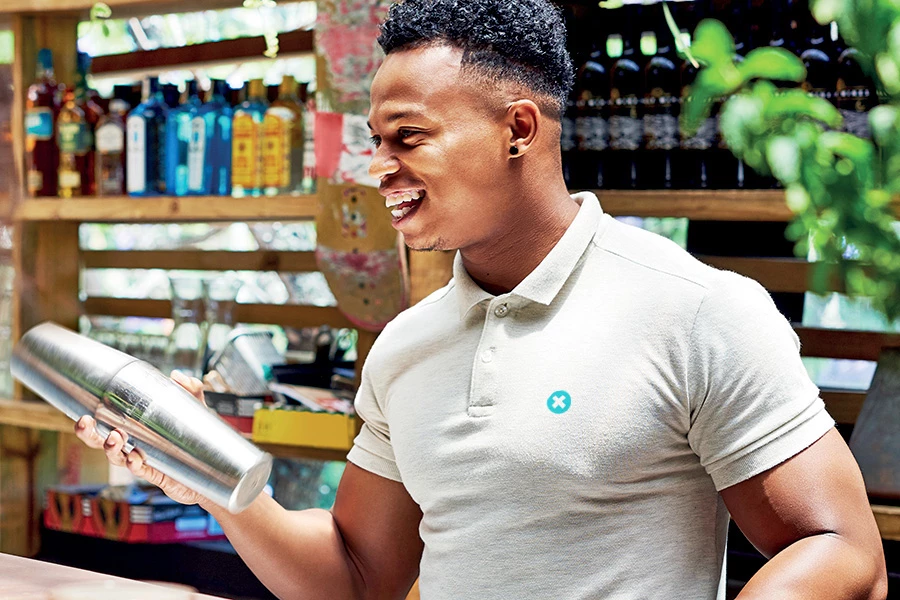 Polo shirts can also help creating a uniform look among employees as everyone can wear the same shirt with the company logo. This way they can make a significant contribution to the company's corporate identity.
Find out more about the use of polo shirts in the hospitality industry in our blog Stylishly dressed waiters bring more profit.
Polo shirts are also an excellent choice for workwear in the sports sector. They can be worn by athletes, fans, coaches, referees and other staff as they are comfortable and easy to wear, while looking professional. Polo shirts can also be used as a promotional tool in sport by printing the logo of the company or brand you want to promote on the collar or chest. Advertising at sporting events is one of the most successful marketing tactics in general, according to many studies.
In any professional environment, polo shirts can contribute to the comfort and professional appearance of your employees. By buying quality polo shirts, you can keep your employees happy and show that you care about their wellbeing and the success of your business.
When choosing polo shirts for workwear, it is important to consider the material, size, colour and other factors that can affect comfort and appearance. Using polo shirts as workwear can help you present your company in a comfortable and professional way.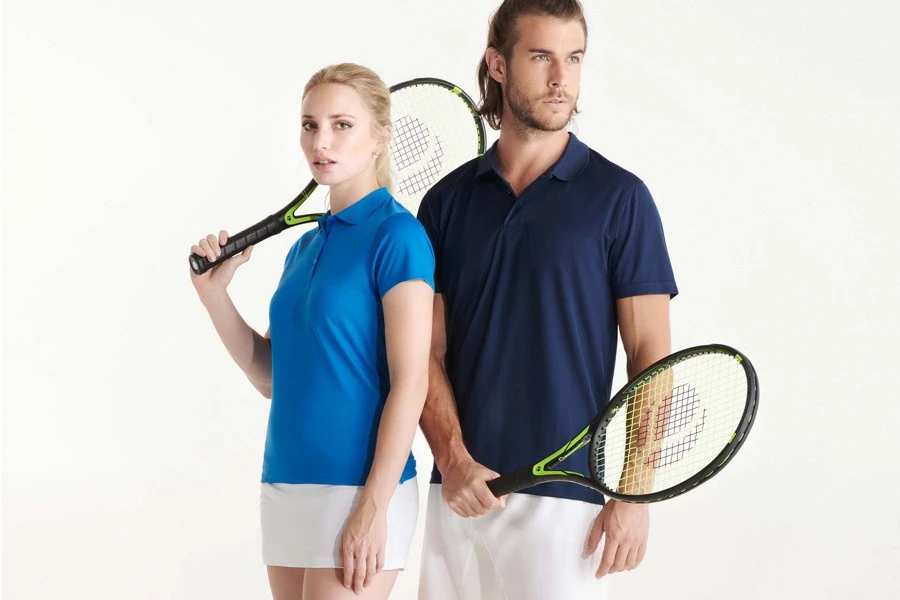 Which material is the best choice for polo shirts?
Promotional polo shirts can be made from a variety of materials, depending on your needs and preferences, as well as your budget. The most common materials for polo shirts are cotton, polyester, spandex and blends of these materials. Here are some important facts about the materials used to make promotional polo shirts:
Cotton polo shirts are the most popular as they are comfortable, breathable and easy to maintain. They are also durable and do not stretch too much. The material most often used for polo shirts is pique cotton, a material with a slight pattern in its texture, which can be identified by small vertical holes in the surface of the fabric.
Pique cotton is known for its durability and its ability not to stretch, making it an excellent material for polo shirts. In addition, pique cotton is breathable and comfortable to wear.
Polyester polo shirts are made of polyester, a synthetic material that is durable and does not stretch. Polyester polo shirts are great for sports activities as they do not stick to the body and are therefore very comfortable to wear.
There are several types of polyester used to make polo shirts. One of the most common is micro polyester, which is made from thinner polyester fibres, making it softer and more breathable. The second type is a high air permeability polyester, which is designed to be well ventilated and therefore even more comfortable to wear.
Polyester polo shirts can also be blends of other materials such as elastane or cotton to improve their comfort and elasticity. Polyester polo shirts can also be made with various add-ons such as reflective strips or sun protection to enhance their functionality.
There are many options when it comes to promotional polo shirt materials, so it's important to choose the one that best suits your needs and preferences. Of course, you can get even more information about the materials from our staff, who will be happy to share our experience with you.

The colour of promotional polo shirts is very important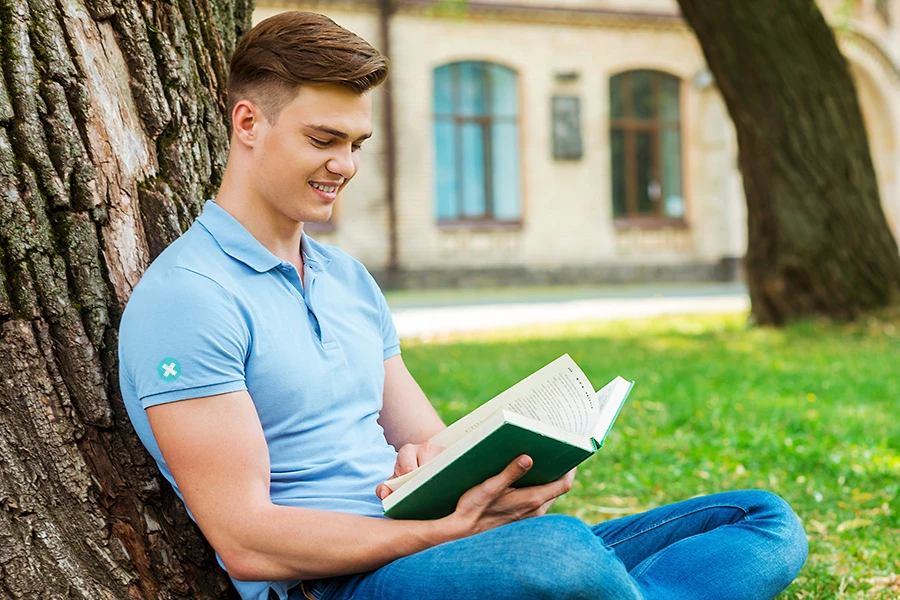 When choosing the colour of your promotional polo shirts it is important to consider the message you want to send out with your promotional polo shirts.
If your company or brand has a particular corporate identity colour, it's probably best to choose polo shirts in those colours. This will help maintain the continuity of your image and increase your brand awareness.
But if you're looking for something more extravagant or your brand doesn't have a colour scheme, you could consider using on-trend colours or choose colours that are associated with your company or products. For example, if you have a company that sells environmentally friendly products, you could choose green for your polo shirts.
When choosing colours it is important to be aware that some colours are more suitable for certain occasions than others. For example, black or dark blue polo shirts may be better option for business meetings, while pastel colours are more suitable for relaxed socializing.
It's always a good idea to try out different colours and consult our design experts to choose the ones that best suit your needs.

Short or long sleeve?
The answer to this question depends mostly on your needs, the time of the year when you will distribute the polo shirts, and the nature of the work, in case you will use the polo shirts as a means of protection at work.
We offer both types of polo shirts from well-known brands, and we can also print or embroider them for you. Here is the link to short-sleeved polo shirts and link to long-sleeved polo shirts.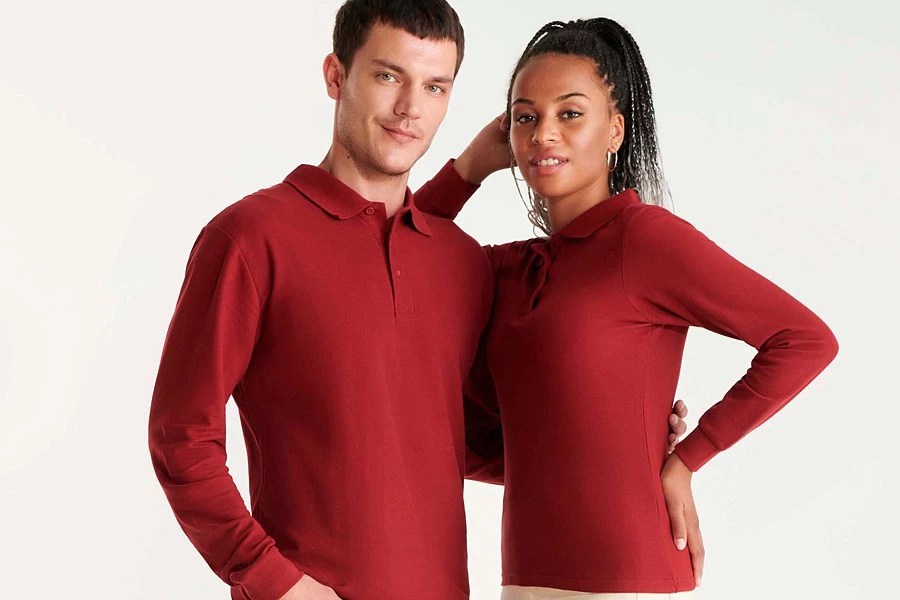 Choose the size of promotional polo shirts carefully
Polo shirts must fit and must not hang on your body in any way. Of course, they shouldn't be too tight. Since polo shirts are an elegant garment, size is very important, especially if you use them as a work wear.
Our advice is to ask for samples before placing order. Your colleagues should try them on to be able to choose the appropriate size. This is especially important if you personalise polo shirts.

How to choose the right branding technique?
The most common techniques of branding polo shirts are:
Screen printing, where the paint is transferred directly to the polo shirts via a sieve or printing with transfers, where the paint is first transferred to a special paper, then to the fabric with a heat press. These two techniques are affordable, but the price is increasing with the number of footprint colours. Therefore, in such cases embroidery becomes more affordable.
Digital printing, where the colour can be applied directly to the polo shirt using a DTG (direct to garment) printer. Another type of digital printing is when the logo is first printed on a special foil, which is later stamped with a heat press on a polo shirt. These two techniques are suitable for small quantities or designs with many colours.
Embroidery of a logo or advertising message on promotional polo shirts is the most common branding technique, because of its durability. It gives a stylish and exclusive look. This technique is carried out with special machines that embroider the logo into the polo shirt. Embroidery is the most common technique for branding polo shirts.
We also personalise polo shirts very often, for example we add a first or last name on it, or some other personal characteristic of the person who will wear it. Personalised polo shirts are a particularly effective promotional tool as they are unique what increases the likelihood that recipients will love to wear them.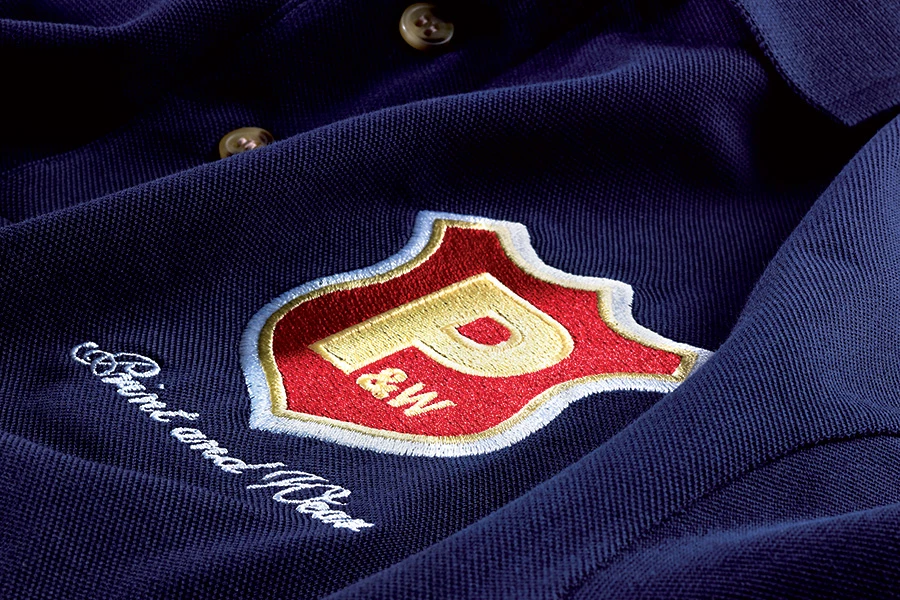 Maintenance tips
To make sure your promotional polo shirts will be used for a long time it is important that they are properly maintained. Here are some of our maintenance tips:
Follow the instructions on the label of your polo shirt. Don't wash your polo shirts at high temperatures especially if they are printed. To keep your polo shirts as new for a long time, turn them outwards before washing them. Wash them together with similar colours.
Air dry your polo shirts or dry them in a tumble dryer, but it is important to dry them at a low temperature to prevent wrinkling or shrinking. Especially for cotton shirts drying in the machine is not recommended.
Keep polo shirts in a well-ventilated room, cupboard or shelf. This will prevent absorbing moisture and thus getting an unpleasant smell. Avoid storing in bags.
Do not iron your polo shirt directly on the print as it will lose its durability. If it needs to be ironed, turn it outwards.

Following the label instructions and general maintenance tips will help keep your promotional polo shirts in good condition for a long-time usage. In this way polo shirts will serve the purposes for which you purchased them.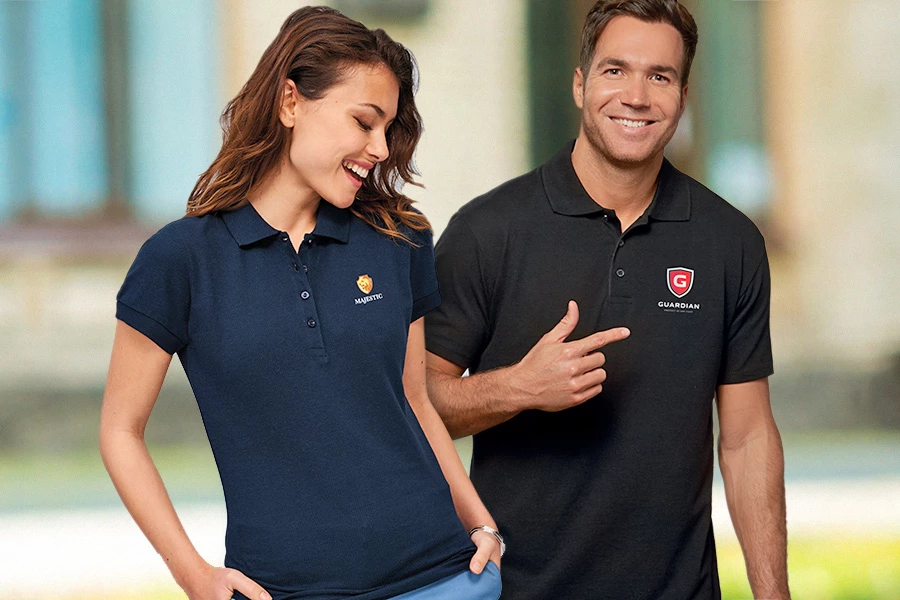 To learn more about useful promotional and business gifts, read our similar blogs:
Promotional water bottles - what is good to know before purchasing them?
Promotional Umbrellas, Your Walking Billboards
The Reasons Why Everyone Love Promotional Towels
5 reasons why your company need promotional backpacks