You are often faced with the dilemma of which promotional gift to choose to maximise the gift's effect. For your advertising campaign to be successful, the present must be helpful and of good quality that the gift recipients will use it. It must have a suitable printing surface to place an advertising message on it, and the bonus is if the gift recipient will use the gift outdoors, among people, as this will spread your advertising message.
If the item is still affordable and you can purchase a larger quantity, we have found the perfect promotional gift. All of the above will come true for you if you opt for T-shirts with print, which we often call promotional T-shirts.
Almost all of us have a promotional T-shirt in our closet at home. However, its practical value primarily depends on its quality. The higher the quality of the T-shirt, the more likely it is that the gift recipient will wear it and thus spread our promotional message or brand. Therefore, buying cheap and low-quality T-shirts is a wrong business decision.

What is an awesome promotional T-shirt?
The first measure of the quality of promotional T-shirts is their material. In most cases, T-shirts with a print are made of cotton, to which we sometimes add a few per cent elastane to fit the body better. As more and more companies are committed to environmentally friendly technologies, cotton should be grown organically.
Absorbability and fast drying of the fabric are very important in sports promotional T-shirts, so in most cases, these T-shirts are made of dry-fit polyester.
Did you know that more than 2 billion T-shirts are sold in the world every year?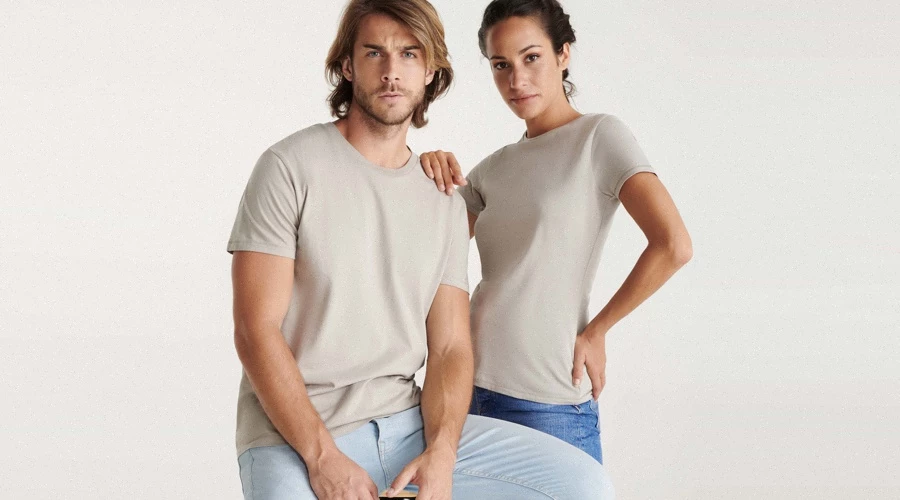 Another important criterion is the weight of the material in GSM (grams per square meter), which tells us how compact the material is. Typically, promotional T-shirts are between 150 and 190 GSM.
For quality promotional T-shirts, a side seam is also standard, which prevents the T-shirt from swirling, and the collar must be four layers so that it does not stretch.
So to summarise briefly. Quality promotional T-shirt is:
Made from 100% organically grown cotton.
The weight of the material is between 150 and 190 GSM.
The T-shirt has a side seam.
The shirt has a four-layer collar.
You can find even more interesting facts and tips on this topic in our post: What is an awesome promotional T-shirt?

A promotional T-shirt is a walking billboard.
The following fact favouring a T-shirt as an efficient promotional gift is a large area suitable for carrying an advertising message. There are very few items that allow branding on almost the entire surface, and there are very few gifts that, with their use, allow such strong visibility and thus spread the desired message. Not a few of them also call the T-shirt a walking billboard.
Practically, the T-shirt can be printed on the entire surface, including the interior. And due to the large area, it is also possible to design a quality message, which is essential on a good T-shirt. Because the more quality and well-designed the T-shirt is, i.e. modern and pleasing to the eye, the more likely it is that someone will wear it and thus fulfil the mission intended for the T-shirt.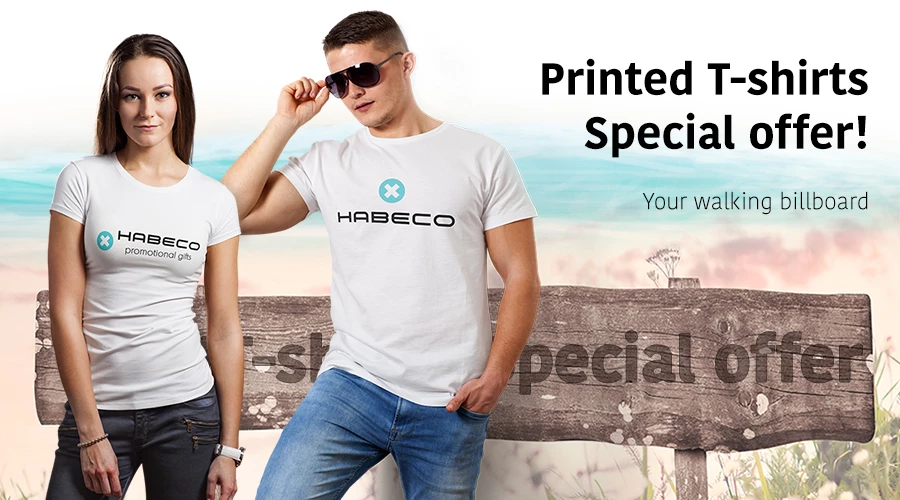 What T-shirt printing techniques do we use?
The most common printing technique on promotional T-shirts is direct screen printing. The technology is ancient but still very effective. Transfer the paint through a screen to a T-shirt that is absorbed into the material. This method is affordable and most suitable for larger editions of promotional T-shirts.
The screen printing technique can also be used by transferring the ink to a special paper, after which it is transferred to a T-shirt with a heat press. For better colour durability, a special adhesive is added, ensuring that the material absorbs the colour. This technique is called T-shirt printing with transfers.
Sublimation printing on T-shirts is a very similar technique, except that the colour is transferred to paper with a special printer. However, with heat transfer to textiles, the colour evaporates into the material, so we cannot feel it by touch. This technique is only suitable for white polyester T-shirts. The advantage is that the price of a multicolour print is low.
A relatively new T-shirt printing technology is DTG (direct to garment). In this case, we print the design directly on the T-shirt via specially designed printers. This technique is suitable for personalising T-shirts, smaller editions, and unique T-shirts.
For personalised or unique T-shirts, we also use special flex foils for printing T-shirts, which are cut out on a cutter and, if necessary, printed, after which they are transferred to the T-shirt with a heat press. This technology is also used to print sports equipment.

Who are the promotional T-shirts for?
There are not many promotional gifts with such a wide range of potential users. T-shirts are worn by old and young, children and adults, men and women, in short everyone. They are helpful at home, at work, at sports and we could list more.
Promotional T-shirts are present everywhere. Almost every company has them as promotional gifts or as a corporate part of the uniform for its employees. In addition, they are prevalent in sports clubs or schools and colleges because their members show their affiliation with them. Last but not least, a printed T-shirt can also be a valuable and original gift for a birthday or any other holiday.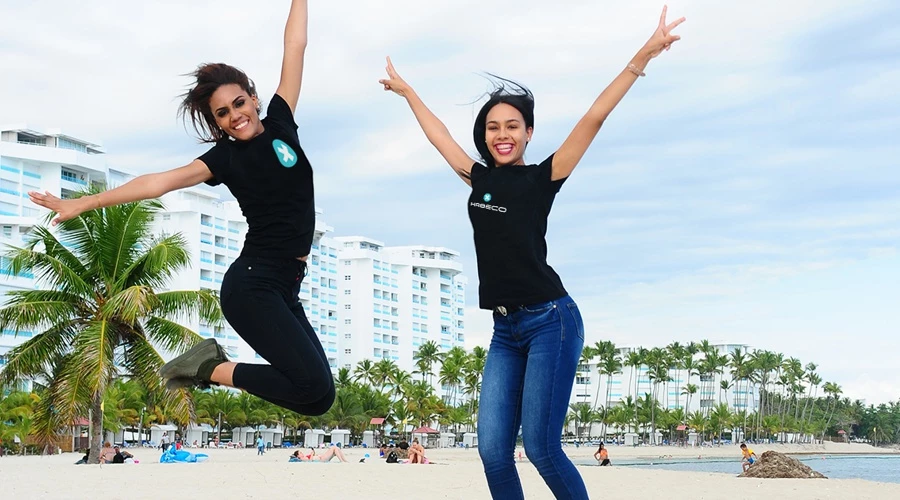 So, there is a very high probability that the gifted T-shirt will find the user sooner or later, and hence your advertising message will go among the people in the most unobtrusive way. Not to mention that T-shirts don't have an expiration date, like a calendar. And if you think T-shirts are only used in the summer, you're sorely mistaken. The T-shirt is a timeless, valuable and practical promotional gift.
Did you know that T-shirts have their International Day on June 21st?
T-shirts are printed in most cases, but of course, we also embroider. We have already written about this in the blog "Printing or embroidery on promotional textiles?" The print can be minimalist (small logo on the heart or some other position) or a complex design that contains richer graphics with deep message value. You can find quite a few of these already designed T-shirts on our website majice.si. We can insert your message or logo into most of these designs.
Particular emphasis should also be placed on the possibility of changing the sewn-on label by printing it on the inside of the T-shirt, where we use your logo and all the signs of maintenance, thus making the T-shirt unique. So, yes, it is true; the possibilities are almost limitless.
In summary, several factors need to be considered when purchasing promotional T-shirts that significantly affect the quality of your promotional gift. Based on our more than 30 years of experience, we have prepared a special offer of printed T-shirts in our company, which will surely fulfil your expectations.
So the next time you think about how to promote your business or brand, think about promotional T-shirts. They have everything an excellent promotional gift should have. You won't be sorry!

We recommend reading blogs in which we write about a similar topic:
Now is the right time for short sleeves T-shirts, and summer hats!
Promotional T-Shirts - everything you wanted to know