A personalized notebook is one of the best business gifts, mainly because of the large area that is ideal for your story, message and logo, with or without calendar part. In addition, notebooks are in great use so gift recipients are often in style with your brand, and they also successfully spread visibility when they go to meetings with them.
Create original notebooks that will be on a completely different level from the classic ones. The possibilities for this are enormous.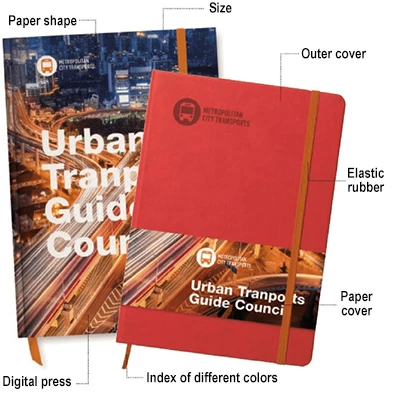 Once you decide to customize one of the existing templates, you can change the font, colors, and decide which languages you want to display (maximum 3). You can also add or remove holidays; add a name day or special events.
Choose one of our calendar templates or create your own from scratch. Each page can have your own unique design; e.g. a different photo on each page.
To receive a quote with pricing, please send us an inquiry with as much details as you can. You can easily request a quote by pressing on the blue "QUOTATION / BRANDING" button.
We completely press the cover in color (outer and inner sides), with the elastic band, page marker, pen holder, pocket for additional papers… there are many possibilities. Covers made of paper, recycled paper, artificial leather (possibility of blind printing - as a stamp), hard or soft covers. In addition to the design, which can be made exactly to your liking, you can choose from the following features:
Material



Paper I PU Leather
Leather colors


Paper shapes



Lines I Diamonds I No Llines
Different design options



Elastic rubber I Index of different colors I Pen holder I Paper cover I Digital printing on the first and last i Digital printing on the promotional page I Document pocket